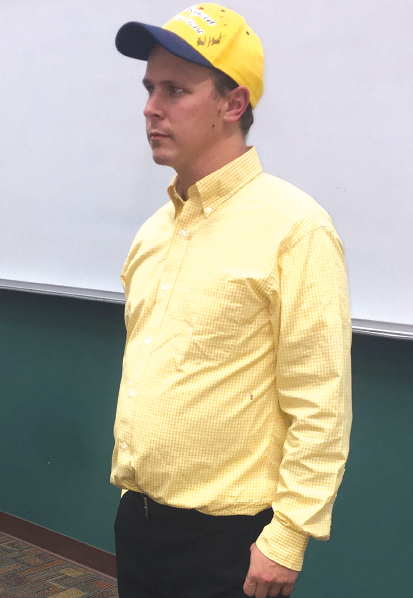 Ferris social work senior Connor Bartz presented to students and faculty about his chronic illness and hidden struggles since birth.
Approximately 20 Ferris representatives gathered to hear the motivating life story of Bartz, who has overcome many barriers within his life.
Bartz said he was rushed to the hospital within 10 days of being born due to health complications. He was the youngest patient at the time to be flown via Aero Med.
After doctors examined Bartz's health condition, it was agreed that he would become shunt dependent. A shunt is a narrow piece of tubing that is inserted into the brain in the fluid-filled ventricle.
"I didn't know what a shunt was, now I know so much about it," said Ferris student Caroline Waterman. "These type of events are informative because you become exposed to things that you may not be exposed to."
Throughout his life, Bartz has had 25 major surgeries and there is no guarantee that he won't have more. He said that as a kid, meeting nice neighbors who were like grandparents gave him hope that everything will be OK.
"Even though I've had so many major medical issues, I was never diagnosed with a disability," Bartz said. "I'm still able to comprehend and function and learn as well as others."
Bartz said he struggled in school because of long hospital stays which made him feel singled out from the other students.
Since being in college, Bartz has learned how to play the piano, become a drumline bass drummer, and is currently writing a novel.
"I would consider this seminar motivational because he overcame huge obstacles," said Ferris social work junior Hannah Ventimiglia.
"Last year, I received my Bachelor's degree in social work, and now I'm in graduate school working on my Master's in social work," Bartz said. "I want to be able to work with people who have medical struggles just like me."
For more information on Disability Awareness Month events, visit ferris. edu/ecds/.