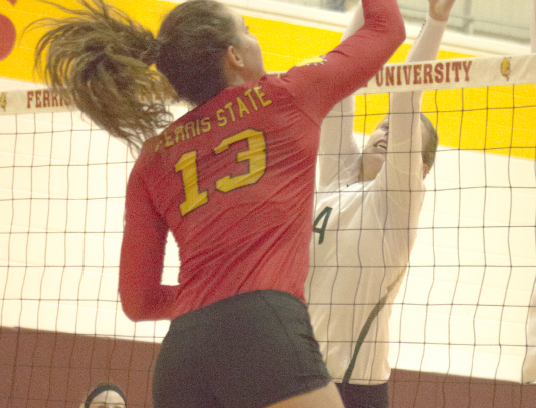 The Ferris State women's volleyball team increased their win streak to 12 after a clean sweep of the Midwest Regional Crossover Tournament over the weekend.
The Bulldogs had a slow start to the 2016 season, losing five of their first ten games. However, after each loss the team came back stronger in the next match.
"We started our season playing a very tough national schedule," said head coach Tia Brandel-Wilhelm. "We competed hard and came up short in a couple matches, but we learned and got better every day."
The team lost a few key players to graduation last year, but has found new up and coming underclassmen to fill those holes. A mixture of new players such as freshmen Allyson Cappel and Maeve Grimes, as well as leadership from returning players has allowed the Bulldogs to find success.
"We did lose some great people and players," said junior Katie Placek. "We've worked really hard in practice and off the court to be supportive of each other in order to fill those roles."
With a 16-5 overall record to begin the season, the team looks ready to repeat the success of last year's squad. Coach Tia Brandel-Wilhelm knows what her team must do in order to compete for this year's GLIAC title.
"This team is committed to each day," Brandel-Wilhelm said. "They take each moment and do their best then to move on to the next moment. These Bulldogs attack every practice and every match with the mentality to get a little better and to play for their teammates."
With nine consecutive conference games in the coming weeks, the FSU volleyball team will look to improve their 7-1 conference record.
The Bulldogs will try to extend their win streak in Ohio as they take on conference opponent Findlay at 7 p.m. Friday, Oct. 21.