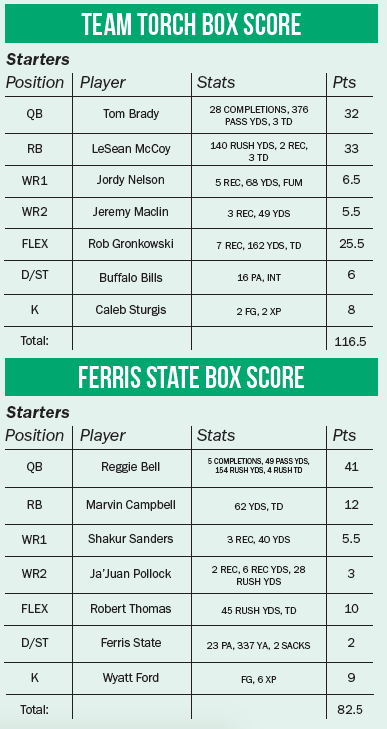 The Ferris State football team dominated the Northern Michigan Wildcats 45-23 on Top Taggart last Saturday.
The Bulldogs thrived on the ground, rushing for 436 yards on 50 attempts at a clip of 8.7 yards per carry. With the Ferris State rushing attack being nearly unstoppable, the Bulldogs only threw the ball nine times all game for a measly 46 yards, which really affected the outcome of this week's Ferris Fantasy Football matchup.
Only two Bulldog receivers had catches on the day, for a total of five receptions in the game, which is why the Bulldogs wide-receivers combined for just 8.5 points this week.
Ferris quarterback Reggie Bell had a field-day on the ground, with 154 rushing yards and four touchdowns and a whopping 41 fantasy points, accounting for nearly half of the team's fantasy total this week. Another problem that plagued the Ferris fantasy potential was how much the Bulldogs split carries in the backfield this week.
Nine total Ferris players tallied at least one rushing attempt in the game, making it tough for one or two running backs to have stand out performances. Granted, junior running back Jahaan Brown did run for 103 yards on only nine carries but his point total of 10 was matched by fellow running back Robert Thomas who carried six times for 45 yards and a touchdown.
With this week's 116.5 to 82.5 win, I have improved to 5-1 in Ferris Fantasy Football while the Bulldogs improved their on-field record to 5-2 with their win against NMU.
We'll see how the Bulldogs fair next week as they take on Lake Erie 1 p.m. Saturday, Oct. 22, on Top Taggart Field.
The Dawgs will go up against the following week 7 lineup.
QB: Matt Ryan, Atlanta Falcons:
Matty Ice has been a very pleasant surprise for fantasy owners this year as the top quarterback in ESPN scoring. He has a very favorable matchup against a non-existent and injury ridden San Diego Chargers secondary, so expect more big things from him this week.
RB: Demarco Murray, Tennessee Titans:
Murray is heavily used by the Titans, who square up against an Indianapolis Colts defense that allows 4.8 yards per carry. Look for Murray to get the ball early and often, which could result in a big day.
WR1: Julio Jones, Atlanta Falcons:
This guy is absolutely unstoppable, unless there's interference on a very crucial play by Richard Sherman and the refs don't throw a flag, but that's a story for a different day. You can double or triple cover Jones, but he's going to get open and catch a lot of passes for a lot of yards and probably a touchdown or two while he's at it.
WR2: Michael Crabtree, Oakland Raiders:
Crabtree doesn't have an incredibly favorable matchup this week against a pretty good Jaguars secondary. But he plays for a pass-happy offense that often finds themselves having to pass even more because their defense allows so many points that it's tough to keep up. Also, with Amari Cooper having two big weeks for the Raiders coming into this game, I think the Jags will place more focus on Cooper, leaving a very able Crabtree to take advantage of 1-on-1 coverages.
FLEX: Hunter Henry, San Diego Chargers:
Henry has emerged as one of Philip Rivers' favorite targets in the red zone, having caught a touchdown in his last three games. Henry will be playing against a weak Falcons defense, so expect San Diego to move the ball well, and find opportunities to feed Henry, especially in goal line situtations.
D/ST: Baltimore Ravens:
The Ravens have a pretty good matchup against a poor Jets offense in week seven. The Jets have a tendency to turn the ball over often as well.
K: Josh Brown, New York Giants:
The Giants head to Twickenham, London to play an early game on Sunday. In a city that is full of people that like watching people kick balls, the crowd should be seeing plenty of that as the Giants have attempted more field goals than any other team so far this season.