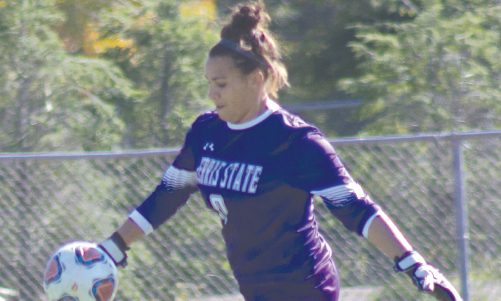 Top Dawg honors go to freshman women's soccer goalie Grace Kraft this week. The Bulldogs played two games this weekend and Kraft was instrumental in the Bulldogs defending Top Taggart Field.
Ferris State first hosted the Findlay University Oilers Friday, Oct. 14, and won 1-0. Saturday, Oct. 16, Ferris faced off against the Panthers of Ohio Dominican University and notched another shutout, this time 3-0. Kraft saved all sixteen shots on goal and played all 180 minutes in both games combined.
Kraft has had to fight to win the starting job. To start the season, goal keeping duties were rotated with fellow freshman Alison Chesterfield and junior Nyla Peterkin. Since becoming the goalkeeper full time, Kraft has only allowed one loss which came against GLIAC foe Lake Erie Friday, Oct. 7, in Painesville, Ohio.
On the season, Kraft has 66 saves, a save percentage of 91.7, and now seven shutouts. Ferris women's soccer now improves to 5-6-3 with the pair of victories over the weekend.
Ferris State women's soccer will look to continue their longest win streak of 2016 when they play Saginaw Valley State University Friday, Oct. 21. Start time is noon at Top Taggart Field in Big Rapids.