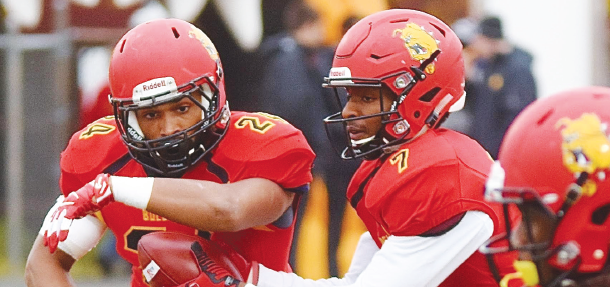 After a blowout home victory Saturday, Oct. 15, Ferris football looks to move up in the GLIAC rankings and make the playoffs with three of four remaining games on the schedule taking place at home.
The Bulldogs dominated the Northern Michigan Wildcats 45-23. Junior quarterback Reggie Bell only had 46 yards passing on five of eight attempts, but passing was not needed as he torched the Wildcat defense for 154 yards and four touchdowns on the ground. Bell had three touchdowns in the first half.
Bell said his offensive line was instrumental in the victory.
"[The Wildcats] didn't have as many players in the box so that opened up a lot of holes and we took advantage. Our offensive line came to play," Bell said.
This home victory came a week after the Bulldogs lost to Grand Valley 35-23 for their second loss of the season. In the two seasons prior, Ferris did not lose a single regular season game. With two under their belt already, it is possible the Bulldogs may need to win out to make the playoffs.
This would mean every game from here on out is a must win. However, head coach Tony Annese said every game is a must win already.
"I've coached over 320 games and every single one is a must win," Annese said. "I tell my guys it's not life or death but play like it's life or death."
The Bulldogs are currently fourth in the GLIAC behind Ashland, Wayne State and first place Grand Valley. Ferris already lost to Ashland and Grand Valley, so the biggest game remaining is against Wayne State which has had a dramatic improvement over last year. Wayne State was fifth in the GLIAC last year with a record of 5-5 but has opened up this year 6-1, good enough for second in the GLIAC. The Bulldogs will play Wayne State at home Saturday, Oct. 29.
Getting home field for most of the rest of the season is a huge advantage for the Bulldogs who have been in the playoffs the last two years. That advantage is rest for the players.
Annese said, "People can't really put a value on the rest you get when playing at home. It's hard to find enough rest to keep your team strong and moving forward on the road."
The last two years, the playoffs seemed eminent. Now Ferris must keep strong down the stretch to reach the postseason. Sophomore defensive end Zach Sieler believes they will achieve that.
"We've learned from our mistakes in past games. I think we're ready to make a run and make it all the way," Sieler said.
Ferris will look to continue its momentum against Lake Erie 1 p.m. Saturday, Oct. 22, in Big Rapids.