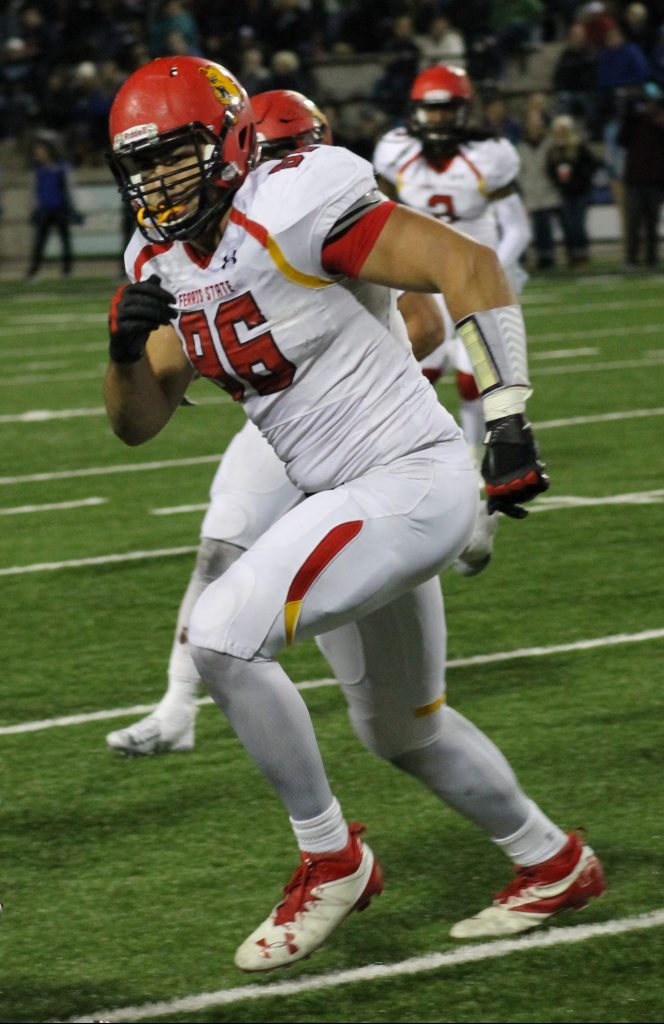 The offense and defense were in full force Saturday as the Ferris State football team dominated Lake Erie in a 42-10 win.
Despite the wide margin of victory, Annese was critical of his team's performance.
"Our gameplay was very sloppy," said Head Coach Tony Annese. "We had trouble with turnovers and had trouble staying on the field."
Despite fumbling the ball early in the first quarter the Bulldogs rallied and forced a Lake Erie fumble. The rest of the game belonged to the Bulldogs as they buried Lake Erie with points that went unanswered.
The Bulldogs' rushing game came out ready to play as they posted four rushing touchdowns all in the first half and ended with 151 total rushing yards. The running game was spread out among various players including senior slot receiver Jamel Lockett and junior running back Jahaan Brown.
Junior quarterback Reggie Bell continues to show flashes of greatness as he led the Bulldogs in rushing with 69 yards on the ground and two rushing touchdowns. Bell also got it done through the air going 16 of 21 for 223 passing yards and a lone touchdown on a 30-yard bomb to senior receiver Shakur Sanders.
The defense for the Bulldogs was also up to the task, allowing just 273 yards of total offense and holding the Storm to only 10 points. Ferris sophomore defensive end Zach Sieler, who led the GLIAC in sacks coming into Saturday's game with 6.5, continued his impressive season as he totaled 11 tackles, seven of which were for a loss, four sacks and a forced fumble that was recovered by junior linebacker Devonte McGregor and returned for a touchdown.
"We had a few coverage lapses," said sophomore defensive end Zach Sieler. "Overall I think the defense played a pretty good game. We just need to work on stopping the opposing offense earlier in the game."
The Bulldogs improved their record to 6-2 following Saturday's win and will continue their season against Wayne State at 1:00 p.m. Saturday, Oct. 29, at Top Taggart Field.