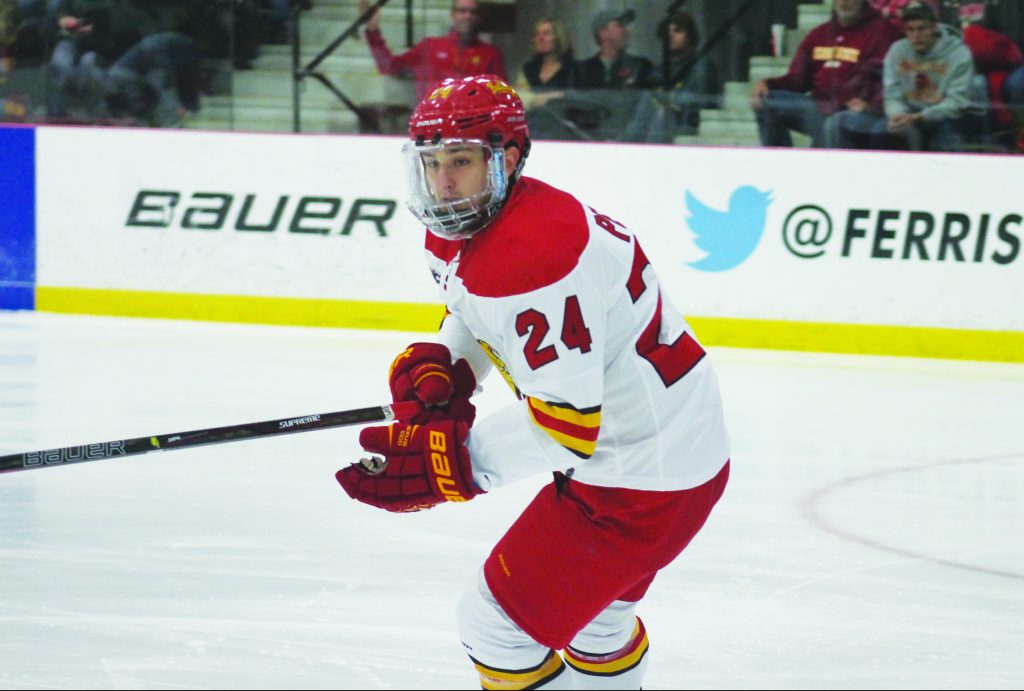 Redshirt freshman forward Craig Pefley finally forced the monkey off the Bulldogs' back with a shootout goal that would seal Ferris' first win of the season.
The Dawgs topped Northern Michigan 3-2 in a shootout, thus splitting the two-game series with the Wildcats.
The Bulldogs played a lot more defense than they would have liked in the first period, but sophomore goaltender Darren Smith held strong. Smith finished the first period with 13 saves. NMU's goaltender Atte Tolvanen escaped the first with 5 saves. The score was fixed at 0-0 going into the second period.
A slow start to the second period picked up when Ferris State sophomore forward Trevor Recktenwald snuck one in for a Ferris State goal, giving Ferris a 1-0 at 5:13. The goal was Recktenwald's first of the season.
NMU answered back at 12:24 into the second off a goal from freshman defenseman Ryan Yaremko. The second period ended in a fight, but remained scoreless. Smith tallied 25 saves by the end of the second and Tolvanen had amassed 16.
The teams found about equal time in the penalty box through the second, Ferris with 19:49 in the box and NMU with 19:02.
The Bulldogs were unable to capitalize on a power play to start off the third period, but as soon as the Wildcat's fifth skater reentered the contest, Ferris scored their second goal of the game. Freshman forward Taylor Fernandez knocked in his first goal as a Bulldog only 1:38 into the third, making it 2-1 in favor of Ferris.
Wildcat junior forward Robbie Payne answered back by way of a four-on-four goal with 12:34 to play in the third. Payne's goal brought an end to the third period, tying the game at 2-2 before heading into the 5 minute sudden-death overtime period.
The first overtime period ended in a draw after some great play from both goaltenders, inevitably sending the contest into a 3-on-3 double overtime period. The second overtime also saw no goals, sending it into a shootout.
Bulldog redshirt freshman forward Craig Pefley was trusted with the first shootout shot for the Dawgs, and he knocked it in to put Ferris up 3-2. Smith stood strong in the crease on NMU's ensuing shot, giving Ferris the 3-2 victory.
Smith ended the night with an impressive performance, amassing 42 saves. Ferris is now 1-6 on the season.
Bulldog hockey is back in action next week on the road at 8:07 p.m., Friday, Oct. 28 at Minnesota State.