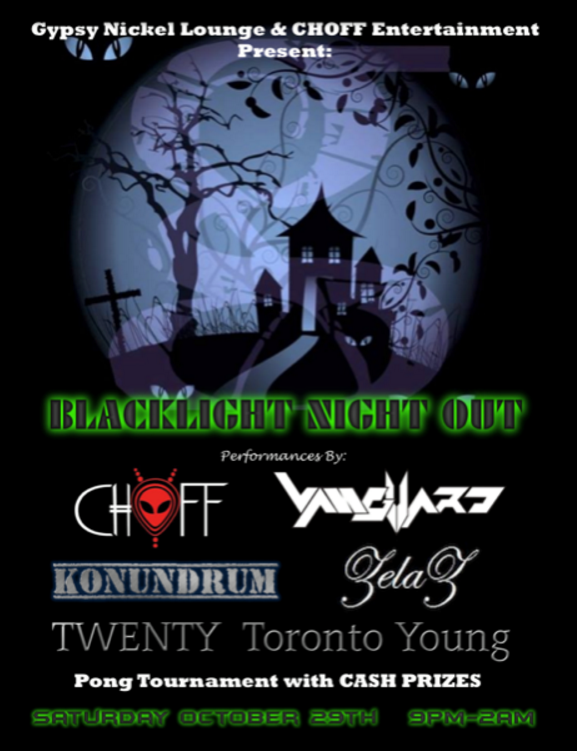 Want something fun and exhilarating to do this Halloween weekend in Big Rapids?
The Gypsy Nickel Lounge will be hosting the Halloween themed extravaganza Saturday, Oct. 29, Blacklight Night Out, presented by CHOFF Entertainment LLC; the music event entertainment services company led by Ferris public relations senior Christian Hoffer.
"We're going to be showcasing talent from people from Ferris," said host Hoffer and headliner DJ CHoFF.
DJ CHoFF is consistently increasing his Ferris fame and his headlining set is expected to be another stellar performance. Other performers include Ferris State rapper TWENTY (Duke Talley) and Toronto Young (former Ferris student Denerro Thornton), who each had exciting sets at Sundown in the back quad of Oakwood last month.
"I'm ready to perform again for a different type of crowd," Talley said. "We're expecting a larger crowd than at Sundown and I'm eager to see the reaction on a larger scale."
Three more artists are set to perform Saturday night, including Konundrum, a.k.a. Ferris music industry management student Nick Robertson. Robertson performed at electronic music festival Turn Up The Good in 2015.
Ferris alumni Jesse Zelazny, now a producer and DJ who goes by the name ZelaZ, will be returning for his musical debut in Big Rapids.
Rounding out the six performers will be Ferris welding engineering technology student, Phil Sciriha, performing under the stage name Vanguard.
The show begins at 9 p.m. and DJ ChoFF's set is expected to wrap close to 2 a.m. CHOFF Entertainment LLC is coordinating sound and lighting.
A water pong tournament will start at 10 p.m. and the grand prize for the champion will be $100. Second place takes home $50 and third place receives $25.
Hoffer stated there is no formal costume contest but dressing up in costumes is highly encouraged.