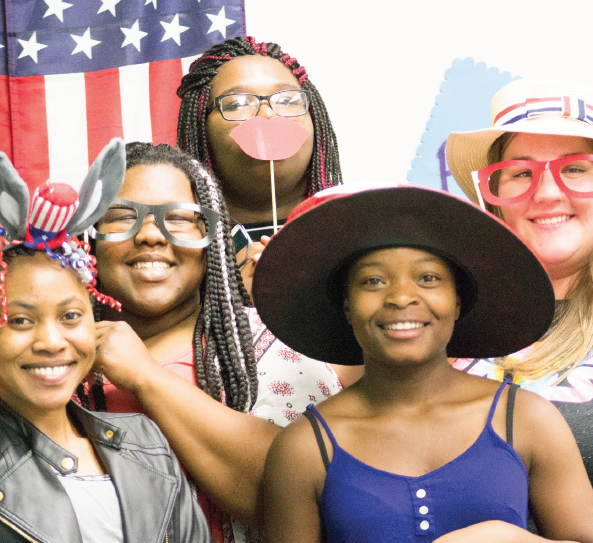 The Political Engagement Project (PEP) held its third and final debate watch party. As presidential candidates Donald Trump and Hillary Clinton took the stage Wednesday, Oct. 19, an estimated 180 students gathered in the IRC to watch.
"I think it's important for people to understand the political system," Kristi Scholten said.
Scholten is the co-chair of PEP, and the coach of Ferris State's debate team. "I do think it is important for people to see the image the candidate is crafting for themselves."
The debate between Trump and Clinton was held in Las Vegas and covered seven main topics; the Supreme Court justice nomination, abortion rights, immigration, the economy, fitness to be president, foreign hot spots and national debt.
"I don't feel like Trump supports my people," said Ferris political science freshman Charnice LaGrone. "I feel like he's for a certain group of people, the rich white upper class people."
LaGrone plans on voting for Hillary but is not particularly excited about either candidate. "It's not really who you like better, it's who you hate the least."
Not everybody felt Hillary was the lesser of two evils. Jake Davenport, the president of the Ferris Chapter of the College Republicans is an adamant Trump supporter.
"Obama has been a not good leader for the past eight years," Davenport said. "He's made a disaster of our country," Davenport said.
While some people knew who they were going to vote for, others were not so sure.
"I am kind of apathetic at this point in our system," said Ferris history senior Micheal Seitter. "I would prefer Bernie Sanders among all else but he's not running."
Tables in the main room had paper with questions on them like, "What is the most important attribute of leadership?" Some tables had less serious questions like, "If Clinton were a super hero or villain what would her power be?"
The event was held in the IRC at 8:30 p.m. Attendees enjoyed free food from Qdoba and Jet's Pizza, games related to the candidates and a photo contest.