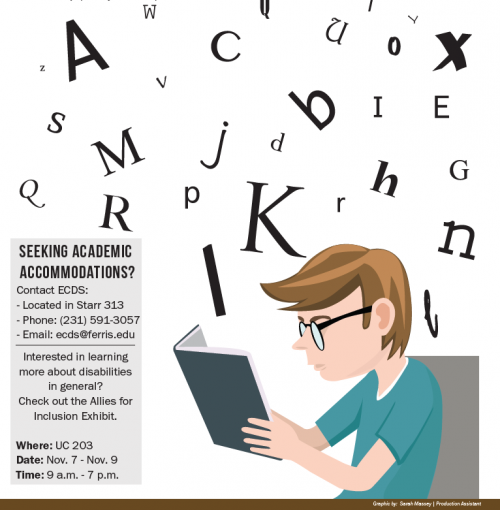 In recognition of October as disability awareness month, Ferris students have raised awareness for several disabilities, including dyslexia.
A recent Ferris State University press release states, "Events and exhibits from October into early November on the Ferris State University campus will celebrate successes of those who did not let disabilities limit their futures, and offer a call for inclusivity and support for individuals who need support and services."
Dyslexia is a language-based learning disability in which people have difficulties with specific language skills such as reading, writing, spelling and pronouncing words.
The exact causes of dyslexia are still not clear. Although, studies of the brain have shown differences in the way the brain of a person with dyslexia develops and functions, according to the International Dyslexia Association's (IDA) website, dyslexiaida.org.
IDA also says that 13 to 14 percent of the nationwide school population has a handicapping condition that qualifies them for special education.
Julie Alexander, 10-year counselor for Educational Counseling and Disabilities Services (ECDS) at Ferris, said she loves working with students and seeing them succeed.
"I think that there are a lot of misunderstandings about learning disabilities and really any disability that one cannot see," Alexander said. "I have heard people talk about accommodations in ways that make it sound like it's an advantage rather than an accommodation.
"I also think that people equate having a learning disability with not having the intellectual capacity to succeed, and that is not what it means at all. People with learning disabilities are underestimated far too often. The thing that is even worse than people having low expectations of those with learning disabilities is that sometimes people with disabilities have low expectations of themselves. I really want people to know that those with learning disabilities often have above average IQs and really have a lot of ability."
Ferris' ECDS provides students with disabilities accommodations, such as extra time on tests, a reader for tests and alternative formats for textbooks. Each accommodation is determined on an individual basis.
"I came to realize that working with students with disabilities was the best part of my job," said Alexander. "I have an ongoing relationship with the students, often throughout the whole time they are at Ferris. I watch them grow and change and realize that their abilities far outweigh their disabilities."
A psycho-educational report is usually required for documentation for the aid of ECDS. According to Alexander, even if a student does not have documentation, that student is still encouraged to contact the office for aid in finding resources to get testing or other ways of help.