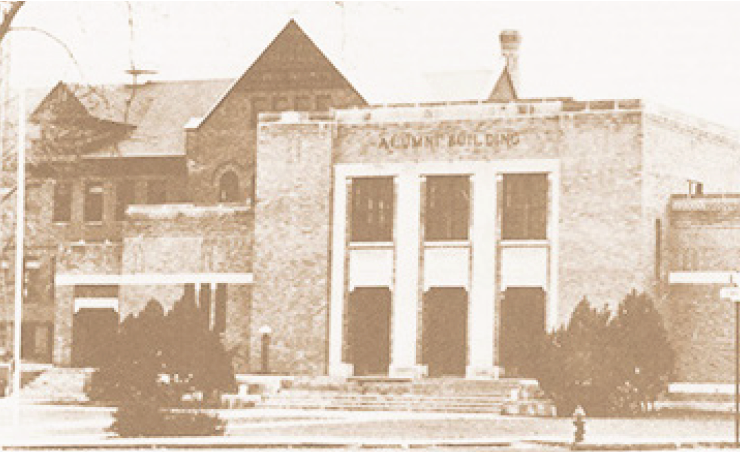 The Ferris State campus may seem like a calm and safe place during the brightness of the day, but as the evening sets in, the supernatural prevails.
Unknown to many students on campus—our university was originally called The Ferris Institute—experienced a fire that would forever haunt the campus. On Feb. 21, 1950, a massive fire destroyed the old Main and old Pharmacy buildings on campus. What remained was the Alumni building and a few smaller buildings.
The Alumni Building is at the meeting point of the northernmost point of campus and the southern tip of Stewart Avenue. Currently the oldest building on campus, numerous reports of the paranormal in the Alumni Building have been reported over the years.
Ferris alumni and past production assistant for the Torch, Shelby Soberalski, experienced odd behavior during her long nights working in the basement office in Alumni.
"There were many times that I'd be working by myself in alumni and the pipes would start making a lot of super weird noises," Soberalski said.
Creeks and squeaks do not equal up to odd activity but dead animals might.
"Often we would find a bunch of dead bugs and once I even found a dead baby mouse. No blood or anything, just dead," Soberalski said.
In 2012, the Michigan Area Paranormal Investigation Team (MAPIT) conducted an investigation on campus and determined the Alumni and West Buildings were haunted.
According to the Torch article titled, "Paranormal activity haunts campus," MAPIT described the activity as, "events that are beyond the scope of scientific understanding."
Student reports of paranormal activity in Alumni have frequently come from the basement level classrooms. Included on this level is the Torch newspaper office.
The basement floor is rarely used outside of the Torch office and various language classes, but at least classes are held during the day when odd activity is less likely to occur. Soberalski claims walking through the halls at night was a different story.
"When the lights were off at night and I couldn't see where I was going I was concerned for my safety. I would hear a bunch of random noises," Soberalski said.
It's possible a ghost has actively haunted campus since the fire in 1950. Outside of terrorizing the aforementioned Alumni Building, strange occurrences have been seen in resident halls on campus.
Ferris professional golf management senior Dustin Darling recalls a moment during his sophomore year when he learned his room in McNerney was haunted.
"I remember one late night in McNerney, my roommate turned on his black light and when we looked up we saw a code on the wall," Darling said. "We turned on the lights and the code was gone. We turned the lights back off, held the black light to it and the code was back."
Darling went on to add, "We tried to make out what it could mean but couldn't figure it out. I was scared to close my eyes that night."