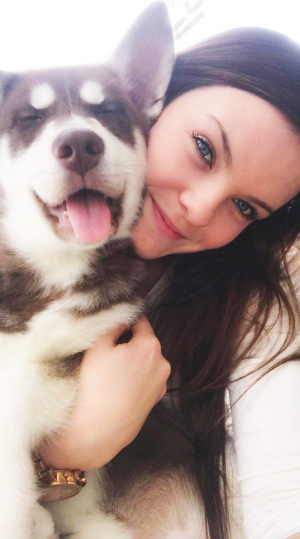 With projects and homework building up, students are looking for ways to combat the stress that goes along with college by adopting pets.
October is National Adopt a Pet Month, an initiative to find homes for approximately 7.6 million pets in shelters, as reported by the American Society for the Prevention of Cruelty to Animals (ASPCA). According to Ferris psychology senior Sarah McKeon, pets can serve as great companions, especially in college.
"Getting a dog while attending school is definitely something I would recommend for other students," McKeon said. "After a long day or after a stressful test or even taking a break from studying, it's nice to know that I have my pup next to me to put a smile on my face."
McKeon is the owner, or "parent," of a Siberian Husky named Brody. McKeon also believes that having pets can teach students responsibility.
"I think having a dog while in college is extremely helpful with stress, and also makes you become more responsible since having a puppy is a huge responsibility," McKeon said. "The hardest part of having a pet while in school, especially a puppy, is probably the training stages. It's hard to have the right amount of time to train your puppy while also attending class and work."
However, McKeon says the work is worth it.
"It may be tough work but dogs really are a girl's best friend. He brings much more happiness to my every day life. He also gives the best kisses and cuddles."
Ferris biology senior Ashley Nichols is the owner of a black cat named Jinx. Nichols also thinks that pets are a good stress reliever.
"It's always fun playing with her when I need a break from studying and she's also just comic relief in general when she follows my roommates or myself around the house meowing or running around like crazy," Nichols said.
Ferris plastics engineering junior Brian Greene is the owner of an English Mastiff named Zeus. Greene adopted Zeus when he came to Ferris.
"I always wanted a dog but I couldn't do it because of the Navy," Greene said. "Then after the Navy, I had the time."
Greene agrees that dogs are beneficial for college life, and said owning a pet had no drawbacks whatsoever.
"He is a stress reliever and the most loyal best friend," Greene said.
For more information about adopting a pet, visit the Animal Rescue Coalition of Mecosta County at arcofmecostacounty.com or visit the American Human Society website at americanhumane.org.