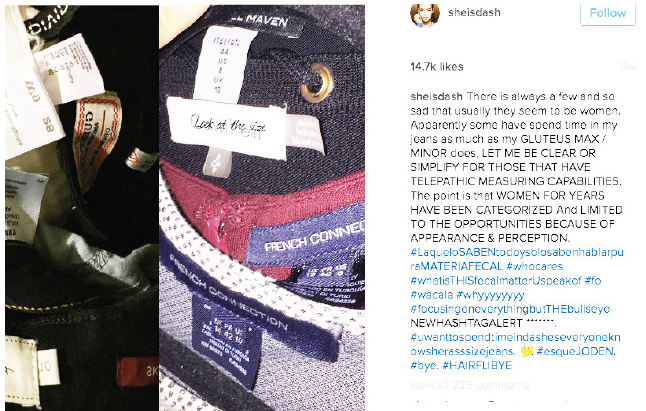 With celebs like Ashley Graham and Amber Riley as inspiration, I've become more open with the positivity of my body image, and I work every day to encourage others to do the same.
A few months back, I woke up one day and was just like, 'Damn, girl, ya look good!" The rest has been history, and I forcibly rid myself of anti-plus-size thoughts by making a Facebook post.
In my post, I say, "If I want to walk out of my house wearing a crop top and ripped jeans, who's going to stop me?"
The answer? Big-name designers and labels who refuse to make their clothes in sizes for all of their perspective customers, including me, because the visual doesn't "fit" their brand.
You would think that this was common sense, and that designers would do everything in their power to maximize their profit—yes, I mean that literally.
If you think I'm being dramatic or am just hyper-sensitive, back up off me. I find clothes and SLAY regardless of the tag.
What bothers me is when this subject continues to make headlines of blogs, mentioned on red carpets during interviews, and inadvertently require body positivity campaigns from other major brands who have retained the best interest of ALL of their potential customers.
In an interview with Vogue magazine back in August of 2016, Dascha Polanco, actress from "Orange is the New Black," stated that the labels she was refused styling by are some of her favorite designers!
Polanco is quoted saying, "I love what they do, so I had my publicist reach out to their PR team. Their response was, 'Oh, you're not the sizes we have, not right now, maybe in the future."
What a load of bull. So, you're telling me, that you didn't think to include ALL sizes in your newest seasonal push? Bull.
Actress Leslie Jones was refused a dress for her premiere to Ghostbusters by several designers, and Melissa McCarthy decided to create her own clothing line called "Seven7" because she was tired of being told that designers couldn't (wouldn't) dress her for an event.
This whole concept hit home for me when I was chosen as an ambassador for the Office of Multi-Cultural Student Services (OMSS) for the 2016 Ferris Foundation Gala.
We were given our limits as to what we can wear and I had to stifle my laughter.
I didn't want to laugh because I was amused. But because I knew it would take me up until the week before this event to find something to wear, and have to pay about an extra $30 on shipping to make sure it's here, it fits and I like how I look.
We were told not to expose cleavage, dresses and skirts must be no more than an inch above the knee and we had to wear flat, comfortable shoes. Insert body-check here.
The flats for shoes, I'm definitely okay with. But whatever I wear will accentuate my breasts, and what's knee length on that girl, will ride up the back on me. Literally.
So I've decided that a classy jumpsuit is my best option, even though I'm not entirely excited about it. But what can I do?
To big-name designers I will say this; get it together! You have an entire untapped market of customers because you refuse to get with the times. We don't all wear a size eight or 10. And for you, that's going to have to be okay.
To the people who just don't understand why plus-size girls need the same luxuries as the next girl, I'll end with what I said to close my Facebook post; "Do me a favor, like my pictures and keep it moving. Cause me and this 22 can change ya life." No matter what I wear, I still SLAY. But it would be nice to be able to wear more.