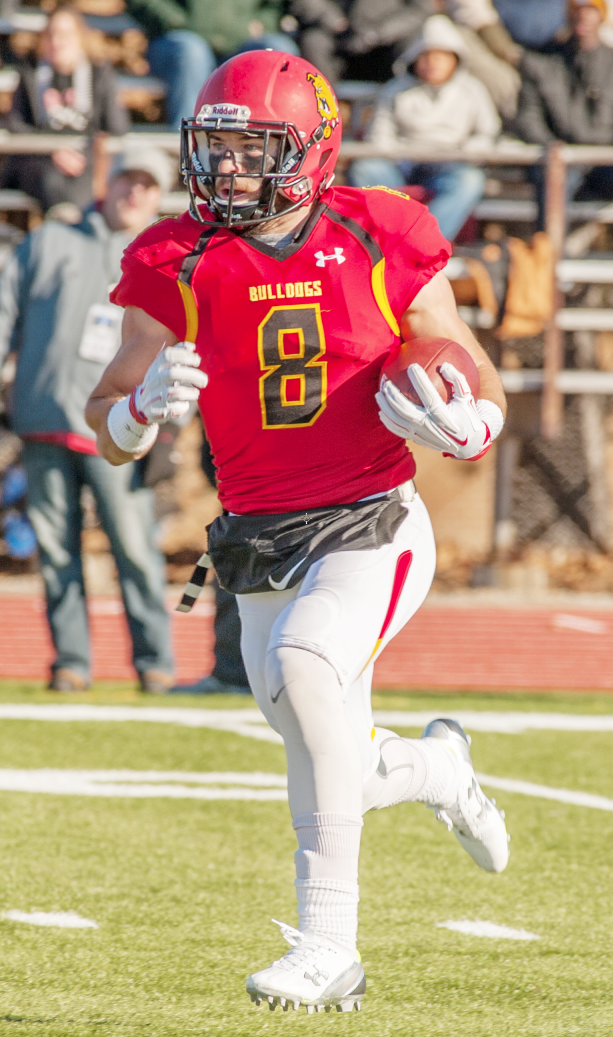 From Ferris State Bulldog to New Orleans Saint, Jake Lampman has successfully made the difficult jump from Div. 2 college football to the National Football League.
A standout wide receiver at Ferris State for four years, Lampman was a huge piece of Ferris State's success, racking up 731 receiving yards in 2015. The East Lansing native's focus has temporarily shifted from catching footballs to tackling, as Lampman got his first NFL start on special teams for the New Orleans Saints Sunday, Oct. 16.
"My experience so far has been amazing," Lampman said. "I love the New Orleans Saints and could not be happier with where I ended up. I have just been enjoying the process."
In the former Bulldog's rookie debut, he fought his way downfield to amass three special teams tackles under the bright lights of the New Orleans Superdome on the punt team. Lampman compared the experience of playing football on NFL Sunday with college football Saturday.
"Obviously playing on Sunday is a bit different for me but it is just like any other game," Lampman said. "The only difference is that there were more fans at our preseason practices than at Ferris games, which was crazy to me! We should have way more fans at the FSU games in my opinion."
Lampman was promoted from the practice squad to play the gunner position after Saints' gunner Erik Harris went down with a torn ACL at a Saints practice. Unfortunately, Harris wasn't the only one to go down with a knee injury. Lampman was carted off the field in the first half of his second NFL game against the Kansas City Chiefs with a right knee injury. The details on the injury are yet to be released.
"It's a lot different because it's my job and I don't ever want to lose this job," Lampman said of his new position. "It makes you work even harder than before."
Wide receiver coach and passing game coordinator for the Bulldogs Sparky McEwen was with Lampman through his successful years at Ferris State. McEwen spoke on what he did to help prepare Lampman for the next level.
"I had the easy part: share with him my knowledge and watch him work, and for me to stay the hell out of the way," McEwen said. "His attention to detail and his desire to achieve the most out of life that he can is the driving force to his success."
McEwen also mentioned the impact that Lampman has left on the people of Ferris State.
"Everyone here at FSU that has come in touch with this talented young man knew he was special and would represent our university with pride," McEwen said.
Lampman said that he has been able to create relationships with guys like former Heisman trophy winning running-back Mark Ingram, and Roman Harper, a 10-year NFL veteran safety. One of the greatest quarterbacks of the modern age Drew Brees has taught Lampman how to go about his business and prepare correctly.
"When my teammates heard the news that I'd be playing I was so happy because they were just as excited for me as I was for myself and that really meant a lot to me," Lampman said. "Having that support from them, not just the people back home and at Ferris and my family, really helped me focus on the game and relax. It's been unforgettable."