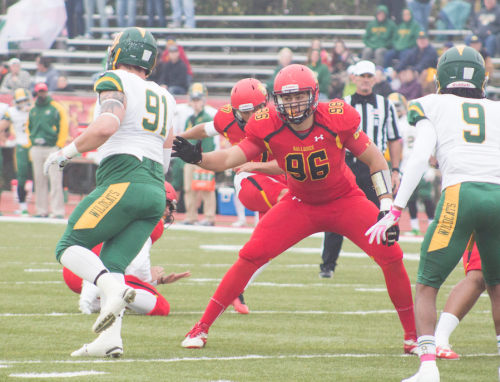 Zach Sieler has a hunger that can only be sated by quarterbacks, and he had more than enough to eat last weekend as the sophomore defensive-end grabs Top Dawg honors this week.
The quarterback-hungry Bulldog had 11 total tackles, eight of those tackles being solo hits and four being sacks. The Lake Erie offensive line could not stop the 6-foot-6, 275-pound Bulldog from getting into the backfield. All four of Sieler's sacks created a problem for Lake Erie in the form of 21 lost yards.
Sieler was able to strum up 31 total yards worth of tackles-for-loss on the evening. The defensive standout also had a forced fumble as well as a fumble recovery, showing that he can clean things up after he makes a mess of the backfield.
For comparison, Sieler was only 2.5 sacks away with four in one night from his total sack count in the entire 2015 season with 6.5. Reminiscent of the recent Bulldog graduate Justin Zimmer, Sieler had himself quite the Saturday afternoon at the end of that defensive line for Ferris State.
As the weather continues to get colder, Sieler will have to stay warmed up and hungry as Bulldog football is back in action for Kids Day at Top Taggart Field against