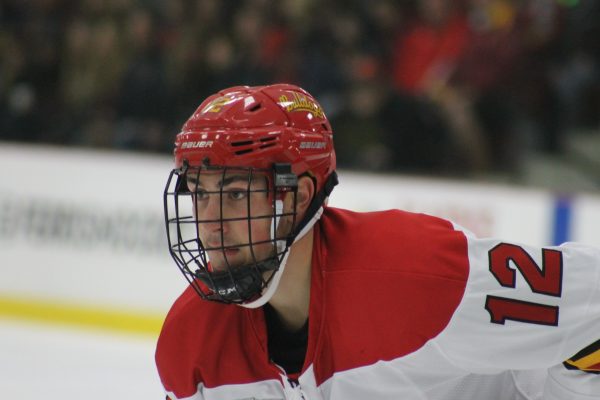 The Ferris State hockey team scored early, but not often enough to go back to their hotel rooms with a win on Friday night.
Just 21 seconds into the game, Ferris State freshman forward Craig Pefley got one past Minnesota State junior goaltender Cole Huggins to give the Dawgs a quick 1-0 lead.
Ferris' lead was soon put to an end when No. 9 Minnesota State scored an equalizer less than five minutes later, on a goal by Maverick junior forward Brad McClure. McClure's goal would be followed by three subsequent Minnesota State goals to give them 4-1 lead in the second period.
Following the fourth goal, Ferris sophomore goalie Darren Smith was replaced by freshman goaltender Justin Kapelmaster. Smith finished the game with 16 saves and four goals allowed while Kapelmaster saved all six shots that he saw.
At the end of the second, the Bulldogs would stop the bleeding with a power-play goal by Ferris junior forward Mitch Maloney to cut the lead to two. It wasn't enough though, as the Bulldogs didn't get a shot on goal for the first 15 minutes of the third period. The result was a scoreless third period and the Mavericks left the Verizon Wireless Center with a 4-2 victory.
After the loss, the Bulldogs fell to 0-7-1 on the season while the No. 9 ranked Mavericks improved to 6-1-0.
There will be a rematch of the game tomorrow night, Saturday, Oct. 28 at the Verizon Wireless Center in Mankato, Minnesota at 8:07 p.m.