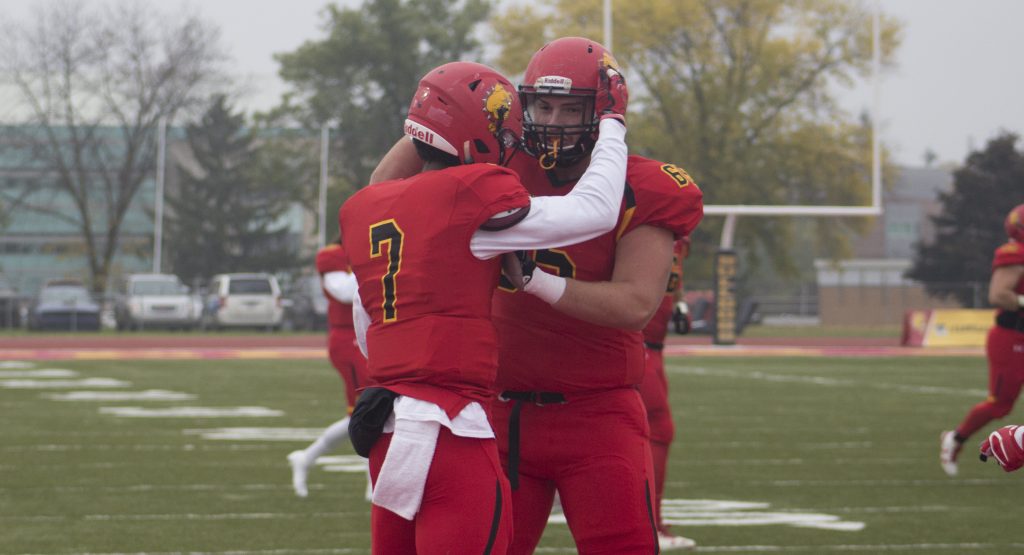 Ferris football blew out the Wayne State Warriors at home 42-20 behind 400 yards of offense from junior quarterback Reggie Bell.
Both teams came into the day as the top-two rush defenses and offenses in the GLIAC. However, Ferris was better on both ends.
Bell started the offensive onslaught with a 65-yard touchdown run on the first play of the Bulldogs' second drive. Ferris would get the ball right back after a huge hit on Wayne State quarterback Donovan Zezula that led to an interception by Ferris safety David Churchwell who returned it to the Bulldog 11 yard line. Bell would finish the drive by throwing a touchdown to junior receiver Jajuan Pollock.
Senior Receiver Shakur Sanders got in on the action with a 49-yard touchdown reception. On the next Ferris possession, Bell had a 37-yard run to set the Bulldogs up at midfield and would finish the drive off himself with a 38-yard run two plays later.
The Bulldog defense held the best running game in the GLIAC in check for most of the first half. Zezula was the only Warrior really getting consistent yards on the ground. He managed two rushing touchdowns on the day. The Warrior's leading rusher on the year, Romello Brown, barely got past the line of scrimmage on most plays.
Wayne State attempted to exploit the Ferris pass defense which ranks 12th in the GLIAC but despite open receivers, the Warriors dropped a lot of balls.
The second half was more of the same except the Warriors could not get anything going. Junior running back Jahaan Brown would put the game at a demoralizing distance with rushing touchdowns on the Bulldogs first two possessions of the half to make the score 42-13. He finished the day with 41 yards and two touchdowns.
WSU's Brown would score for the Warriors in garbage time to make the game seem more respectable. That would be the final score of the game with the scoreboard reading 42-20.
Sophomore defensive end Zach Seiler continued his reign of quarterback terror with two and a half sacks extending his GLIAC leading figure to 13. He added six tackles with four for loss. Junior linebacker Nick Huckaby led the Dawgs in tackles with seven.
Bell led the Bulldogs in rushing with 172 yards and two touchdowns. He went 13-18 for 239 yards and two touchdowns through the air.
The Bulldogs will hit the road for the first time in almost a month next week when they take on Hillsdale at noon on Saturday, Nov. 5.