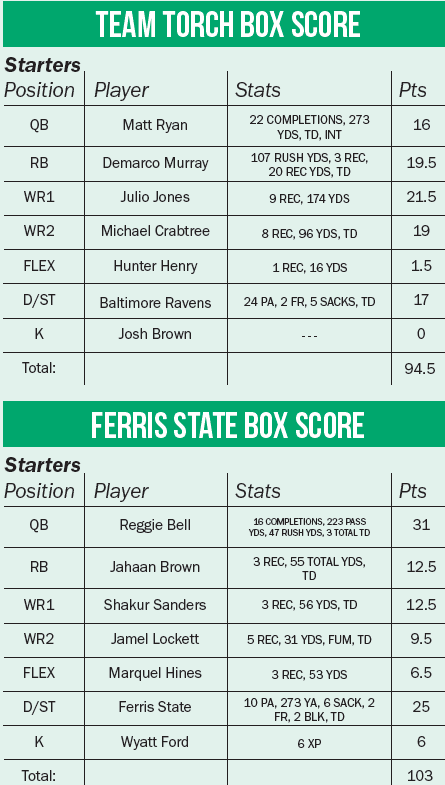 The Bulldogs not only had a big 42-10 win against Lake Erie Saturday, Oct. 22, they also took home the win in Ferris Fantasy Football.
Contrary to last week's heavy rush attack, the Bulldogs spent most of their offensive plays capitalizing through the air to improve to 6-2 on the season. With no one besides quarterback Reggie Bell getting over five carries, the Dawgs made up for it while Bell connected with eight different receivers.
The Bulldog defense had their best performance of the season so far, only allowing 10 points and 273 yards of total offense. The Dawgs tallied six sacks, with two fumble recoveries, a blocked kick, a blocked punt and a touchdown for 25 fantasy points. That 25 points would have outscored all but five NFL quarterbacks.
With the win, the record is now 5-2 in my favor, but with three more regular season games left the Bulldogs have a chance to get back to .500.
Everybody has that one guy in their fantasy league who has more than half of their rosters playing for their favorite team. So this week, I'm going to do something a little different this week and pick only players from the Detroit Lions roster, to see how they hold up against the Bulldogs.
QB: Matthew Stafford, Detroit Lions:
Aside from being my favorite player in the NFL, Stafford has been having an outstanding season under offensive coordinator Jim Bob Cooter. With a weak run game, the Lions will look to Stafford to keep the offense afloat, which he has done a great job of in the past.
RB: Zach Zenner, Detroit Lions:
With the Lions' running-backs plagued by injury, Zenner has been splitting carries the past couple weeks with newly acquired Justin Forsett. Zenner is a better goal line option, which gives him the edge for this pick.
WR1: Marvin Jones, Detroit Lions:
Although Jones has seen a decrease in production the past couple weeks, he is still a big threat and a favorite target of Stafford's near the end zone.
WR2: Golden Tate, Detroit Lions:
As Jones has seen a decrease in production, Tate has been seeing an uptick in targets and production after having a career day in the week six matchup against the Rams. Look for Tate to have a big day on Sunday.
FLEX: Anquan Boldin, Detroit Lions:
Boldin had a quiet week against the Redskins last week, but it was all worth it when he caught the game-winning touchdown from 18 yards out in the late seconds of the game to give the Lions their fourth straight win. The 36-year-old has been a pleasant surprise this season, and is tied with Marvin Jones for most receiving touchdowns on the Lions roster.
D/ST: Detroit Lions:
The Lions defense is not very good at all, but if they can stop the Texans' running game this week then they will have a chance to put up good points against Brock Osweiler and a Houston offense that hasn't quite seemed to figure it out.
K: Matt Prater, Detroit Lions:
Prater is a hit-or-miss guy, which is something you don't really want to see in a kicker. Prater has been much more hit than miss this season. Let's hope he is the same in week eight.