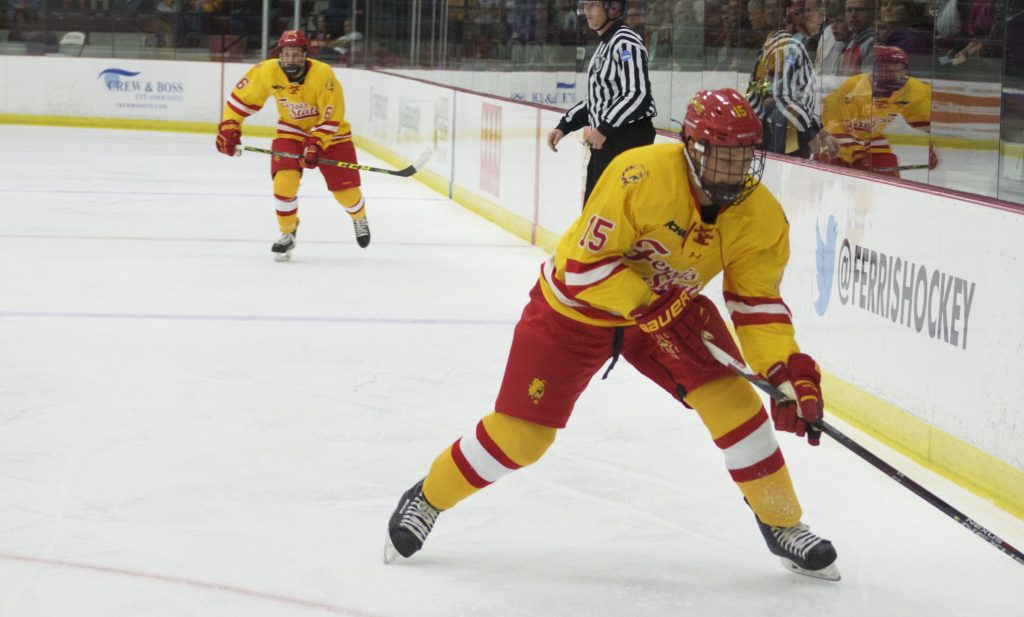 The Ferris State hockey team picked up its first win in regulation of the season Saturday night, as the Bulldogs defeated No. 9 Minnesota State.
It appeared scoring would be hard to come by after a first period that saw Ferris outshoot Minnesota State 5-4 without a single conversion.
The Ferris offense finally came alive in the 2nd period as senior forward Gerald Mayhew found the back of the net on an assist from senior defenseman Ryan Lowney. Only one minute passed before the Bulldogs scored again as junior forward Andrew Dorantes buried the puck in the net off an assist by junior forward Tyler Andrew and senior forward Chad McDonald. Junior forward Mitch Maloney also found the back of the net late in the 2nd period to give FSU a 3-0 lead.
However, the Bulldogs received a reality check with just under 10 minutes remaining in the 3rd as sophomore defenseman Alec Vanko cut the Bulldogs' lead to two. The Mavericks scored two more times late in the 3rd period to tie the game 3-3.
Just as it looked like the Bulldogs had squandered their chance to pick up their first victory, senior forward Gerald Mayhew came in with a clutch shot with one minute remaining in regulation to give Ferris a 4-3 victory.
In a game that had no shortage of offense, perhaps the most important part of the Bulldogs' game was the play of freshman goaltender Justin Kapelmaster. Kapelmaster saved 28 shots and found a way to make clutch plays when the Bulldogs found themselves on the wrong side of a man advantage.
With Saturday's victory Ferris improves their record to 1-7-1 on the season. The Bulldogs' will be on the road yet again for their next contest at 8:00 p.m. Friday, Nov. 4, against Bowling Green State University.