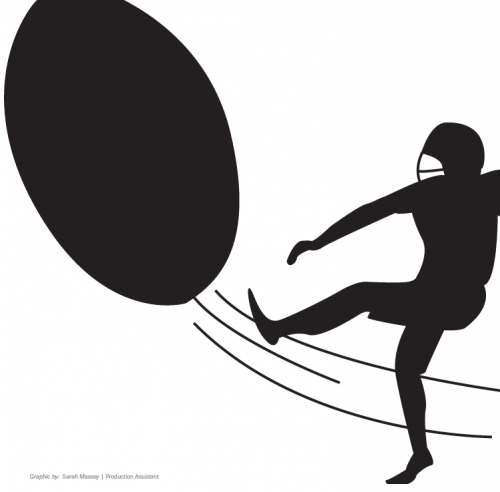 You may or may not have heard the news of former New York Giants kicker Josh Brown. He was recently released amid a domestic violence incident. And it seems like nobody cares.
Josh Brown was placed on the NFL commissioner's exempt list on Oct. 21, one day after documents were released relating to a domestic violence charge involving his now ex-wife dating back to May of 2015. The commissioner's exempt list basically means a player is removed from the active roster for "unusual" circumstances but continues to receive salary. On Oct. 25, the Giants released Brown from the organization but he will continue to earn the rest of his salary.
According to CBS Sports, Brown will earn the remaining $720,480 on his contract even though he will not touch the turf of an NFL stadium.
What baffles me is how little the American public seems to care about this issue. A professional football player beat up his wife a year and a half ago and continued to play televised professional football up until last week. And the team only terminated him once it was made public, because until then, the Giants were pleased to have Brown in their organization. Why wasn't this action done earlier? Did they care about the issue of domestic violence, or about the image of their organization?
Between now and when his ex-wife called the police in May of 2015, Brown played a full season and a half of football, played in the 2016 Pro Bowl and received a two-year contract extension from the Giants in April 2016. It seems like the Giants cared more about the player's production than his abusive behavior.
Domestic violence was nothing new for Brown and he openly admitted it. Brown had a "Contract For Change" signed by him, his ex-wife and a counselor that states Brown physically, verbally and emotionally abused his ex-wife. Brown kept a therapy journal where he wrote down statements such as, "I have abused my wife," as well as "I objectified women and never really worried about the pain and hurt I caused them."
This man is an abusive, misogynistic monster, yet was celebrated as an elite athlete.
Sure, there was sufficient media coverage on Brown from major sports network, but this does not even sniff the coverage on Colin Kaepernick, the NFL quarterback who started the 2016 trend of kneeling during the national anthem.
Kaepernick has been widely praised by people across the country that support him in his civil effort of raising awareness for the inequality of black citizens. Others have called Kaepernick a disgrace, burned his jersey and taken to social media to voice their opinion on the "Anti-American" behavior of this man using his rights to protest.
At a Kid Rock show in Boston last month, Kid Rock stated "Fuck Colin Kaepernick" during his performance of his terrible song "Born Free" to the high praise of cheering fans. It's a very disturbing video to watch, as if watching Kid Rock isn't disturbing enough.
But it is more disturbing that if a famous musician said, "Fuck Josh Brown," a good portion of fans would have no clue what that means, and this is unfortunate. It seems to me that people care more about a black man using his power to fight a racial battle peacefully than a white man assaulting and objectifying women.
The good to come out of this is Josh Brown will never play for an NFL team again. Ray Rice, the star running back who was released by the Ravens in 2014 after a video of him assaulting his wife and dragging her across the floor was made public, has yet to receive a single invitation from an NFL organization since being reinstated in the league.
Maybe the trend is changing. NFL teams do not want abusers to be part of their franchise. Maybe they want to end domestic violence, or maybe they only care about the image of their organization.