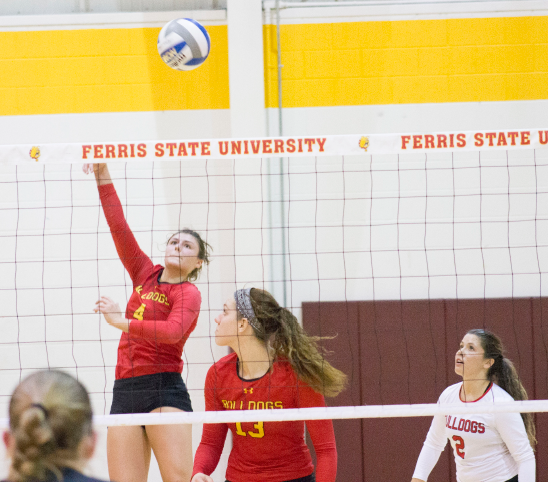 With only a couple weeks until the Ferris State women's volleyball team returns to the Great Lakes Intercollegiate Athletic Conference (GLIAC) Tourney, the young team of Lady Dawgs continue their dominance.
Senior libero Kaley Konjarevich says the team is not looking that far ahead to the tournament, but instead focusing on the immediate future.
"Of course another GLIAC Title would be awesome, but right now we are staying present and focusing on our next game," Konjarevich said. "Before tournament time, we just need to work hard every day in practice and work to make each other better."
Konjarevich is one of only three seniors on the team this year. Many of the crew's top performers this year are underclassmen, giving the young Dawgs a chance to take charge of this program. They have done pretty well so far, as the Bulldogs are 20-5 on the season and have won 16 straight matches.
Sophomore right-side hitter Hannah Guy said that even though there are only three seniors, those three are crucial to the team's success.
"Even though we only have three seniors, they are great leaders," Guy said. "During our offseason they push us younger kids to work our hardest and develop a level of competitiveness and perseverance. We get in the gym every day and just focus on that moment. We focus on getting one percent better every day.'"
Guy also spoke highly of Head Coach Tia Brandel-Wilhelm, the woman at the helm of the Ferris State volleyball program for more than 20 years with ten GLIAC Titles under her belt.
"She has a really high volleyball IQ," Guy said. "She has been around the game coaching for longer than I have been alive. She really knows how to break down the game and focus on the fundamentals and I think that is what helps us out. Rather than getting super crafty, Tia likes to make the game of volleyball seem simple."
The Bulldogs have gone a month and a half since their last loss which came at the hands of Northwood. The Timberwolves happen to be Ferris' last opponent before entering the GLIAC Tournament in November.
With only four more games to go until the GLIAC Tournament, the women are staying focused on the now, getting better so that they may bring another GLIAC Title back to Big Rapids.
Guy's opinion on the tournament was very similar to Konjarevich's.
"We just focus on the present and what we can do to get better at this moment in time." Guy said.
The young team of Bulldogs is back in action 4 p.m. Friday, Nov. 4, when they make the trip up north to take on Lake Superior State. Ferris then heads back downstate the following night to take on Saginaw Valley State University 1 p.m. Saturday, Nov. 5.