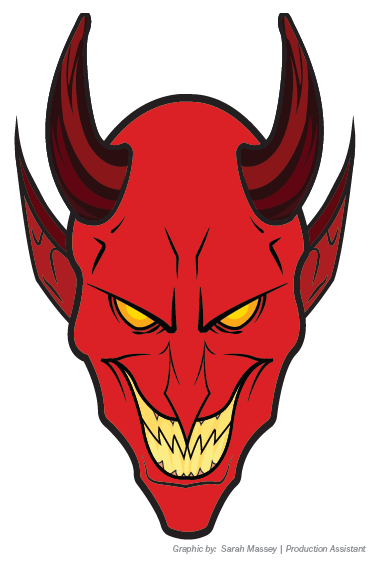 With Halloween being last weekend, students had a great excuse to go out and cause mischief in Big Rapids. And a lot went down this weekend pertaining to partying, drinking, drugs, sex, costumes and music.
College is the prime time in our lives to express ourselves sexually. Some like to find different partners each evening, while others prefer to be in a committed relationship before they engage in sex.
Ferris pre-law sophomore Tess Strasser believes you should wait until you meet the right person before having sex.
"I feel like if you are in a committed relationship and you both have that conversation about it, then it is OK. But if you don't, then it isn't a great idea, especially if you have been drinking," Strasser said.
Ferris alumna Alexa Murdoch, who returned to Big Rapids for the weekend, has a different view on weekend sex.
"Halloween Saturday night is my time to go out and express myself. I am wearing a revealing Greek Goddess outfit, want to get really drunk and meet some guy that I don't have to see again the next morning," Murdoch said.
Murdoch also touched on the topic of drugs.
"I was at a house last night and I saw a guy snort a line of blue Adderall off of the table," Murdoch said. "I don't do that stuff myself, but it definitely seemed like he had a fun night."
Strasser is also against drug use but stated, "Students will most likely be smoking pot and doing Molly and Adderall tonight."
Let's move on to parties this past weekend. Big Rapids sure was full of them. It was especially exciting for two Ferris State first-semester students.
Ferris communications junior Zachary Cook enjoyed his first Halloween weekend in Big Rapids.
"I thought it was amazing; I had a ton of fun," Cook said. "I got pretty intoxicated, went to a few parties and had a good time."
Cook also drank a wide variety of beverages and very interesting concoctions.
"I drank a lot of beer, mostly Busch," Cook said. "I tried Fireball and apple juice and somebody made a whiskey slushy. That was pretty good."
Ferris HVACR freshman Spencer Dodde called Halloween weekend, "A very fun time, probably one of the best weekends of my life."
Cook and Dodde spent their Saturday night in the south side of town at the Oakwood townhouses.
When asked what Dodde did at Oakwood he stated, "I got Patrick shwasted."
As usual for Oakwood on the weekends, a couch was burned on the basketball court.
"I saw guys laying on the couch while it was getting lit on fire," Dodde said.
This weekend though, the crowd at Oakwood got a special treat, a semi-professionally done fireworks show, as well as a few firecrackers set off.
"I think the fireworks were great, my first time seeing that at Oakwood. I was also up here for Ferris Fest and didn't see fireworks then," Dodde said.
On the north end of town, The Gypsy Nickel Lounge hosted Blacklight Night Out Saturday night, a CHoFF Entertainment presented concert.
Ferris music industry management junior Duke Talley, a.k.a. rapper TWENTY, performed with show host Ferris public relations senior Christian Hoffer, supplying the beats. Talley noted that the atmosphere was different than what he was used to.
"It was an unique experience," Talley said. "It wasn't the type of crowd I'm used to performing for. I'm glad I can adapt to different audiences though."
Besides rappers TWENTY and Toronto Young taking the mic during the show, deejayed electronic sets were played till 2 a.m. and there was no shortage of grinding.
Lastly, since it was Halloween weekend, costumes were worn and some stood out compared to others.
Strasser stated during her time at Gypsy, "There was a guy in a full dinosaur costume and I couldn't stop staring at him when he was on the dance floor."
Cook saw a different type of costume at Oakwood that 'literally' stuck out to him.
"One costume that stuck out to me was a tall dude dressed as Nemo and he was also wearing a dildo," Cook said.
Murdoch saw two couples and old friends wearing matching outfits.
"One couple was wearing matching lederhosen outfits and they were so cute together," Murdoch said. "The other was Jenny and Forrest from Forrest Gump. I thought that was amazing."
Halloween weekend has come and gone, Ferris State had its fun and the town of Big Rapids was littered with empty beer cans and Svedka bottles Sunday morning.
Now it's time to get back into the swing of classes and nurse those lasting hangovers until next weekend.