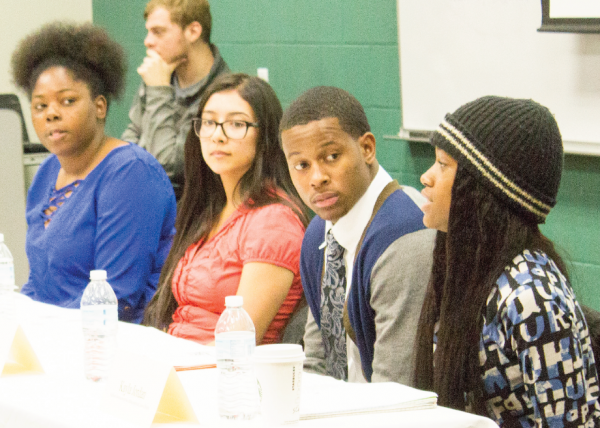 Students were able to voice their opinions and share their stories about Black Lives Matter, stereotypes and peaceful protests at a panel discussion hosted by the Office of Multicultural Student Services (OMSS).
"I think the Ferris community lives these values in their daily walk, by joining organizations that they believe in and having respect for one another and a sense of openness so that we all can feel like this campus is ours, just like the next person," said Michael Wade, the Assistant Director of OMSS.
According to Wade, these discussions are not held as a reaction event or after something bad has happened, they are something done as part of activity on campus.
"That's the problem with the narrative of conversation on race, it's always perceived as negative. It should be positive and something we embrace," Wade said. "Some folks might be shocked about that but we really want to be proactive and change issues from happening."
The discussion was led by Ferris communications senior Lindsey Hogan. Hogan recognizes that as a white woman, she is considered privileged and has a sense of security but she also believes that every person of any color should feel that same way.
Throughout the discussion, students came forward about times when professors racially profiled them and how some students would make racist comments towards them—intentional or not. Those in attendance felt uneasy and bothered by these instances.
"I thought it was nice to bring everyone together to smooth everything out. People don't communicate like that normally because they are too scared to speak out," said Gary Harmon, Ferris business administration sophomore and a member of Kappa Alpha Psi Fraternity Inc., Epsilon Tau chapter.
Martiz Brooks, a member of Kappa Alpha Psi and a former Ferris student believes that the term "Black Lives Matter" is misunderstood.
"It's all about equality, it's in our nature to be aggressive about it but it really should be 'Black Lives Matter, too,'" Brooks said. "We aren't saying that other lives don't matter but just that we matter, too."
Wade offered an analogy to go along with Brooks' comment: "It's like by spreading awareness for breast cancer, by doing so you're not saying that other cancers aren't important, you're saying that this is a good cause and somebody should do something to help, just like the Black Lives Matter Movement, all lives matter and we all should be treated equally."
The President of Ferris, David Eisler, thought that the students did a beautiful job serving as the panel and encouraging a conversation about issues of concern.
"I think that anyone in attendance heard some of the stereotyping, prejudice and discrimination that some of the African American students have experienced, and at Ferris, we do have a graduation gap for African American students and I look forward to working with them and supporting their goal to graduate and get a degree," Eisler said.
According to Wade, the purpose of OMSS is to work for the students, to make sure students feel safe and that students know they don't have to go through anything alone.