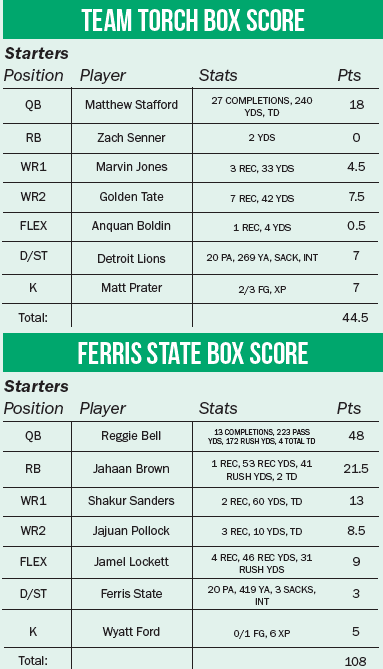 Last week, I did something that no person in their right mind would do. I put my faith in the Detroit Lions.
If you sat in front of your television on Sunday and watched the Lions lose a disappointing game to the Houston Texans, then you'll probably realize why I got beaten so badly.
With Detroit only scoring 13 points and Ferris State scoring 42, it doesn't take a rocket scientist to understand why I got beat 108-44.5 this week in Ferris Fantasy Football. Ferris quarterback Reggie Bell outscored my whole team. I am still up 5-3 on the Bulldogs but my lead is dwindling with losses in the last two weeks.
I'm not even going to get into the analysis of last week besides saying that I will never ever put so much faith in a team that has caused fans to empty out their lunch bags, cut holes in them and wear them on their heads in fear that someone will identify them as a Lions fan.
This week, my (non-Lions) lineup will go head-to-head with the best of the best from Ferris State's matchup against the Hillsdale Chargers Saturday, Nov. 5, in Hillsdale at noon.
Here is my lineup:
QB: Aaron Rodgers, Green Bay Packers:
After a rough start to the season, it looks like Rodgers has his swagger back. He'll probably throw for a lot of yards against a bad Colts defense, especially since the Packers are so down at running back right now.
RB: Ezekiel Elliot, Dallas Cowboys:
The Cowboys play the Browns in week nine. Ezekiel Elliot is an absolute animal. I won't be surprised if he runs for 200+ yards and scores two or more touchdowns.
WR1: Davante Adams, Green Bay Packers:
Once again, I'm stacking a wide receiver with my quarterback because that's just what I do. Adams has come out of nowhere to become a favorite target of Rodgers. Adams has 13 and 12 receptions his last two weeks. That number might drop a little but not much against the Colts.
WR2: Travis Benjamin, San Diego Chargers:
Benjamin has seen a slowdown in targets and scoring opportunities as the season has progressed, probably due to a couple bad fumbles late in close games. Last week, he made an incredible catch in the back of the end zone, and something tells me that will give the Chargers quarterback Philip Rivers enough confidence to target Benjamin more against a bad Dolphins secondary.
FLEX: Delanie Walker, Tennessee Titans:
Just as the Titan's pass defense is weak, so is San Diego's. Walker is a tight-end that Marcus Mariota loves to throw to. Look for a big week out of him against San Diego.
D/ST: Detroit Lions:
I probably should have learned last week but the Vikings aren't incredibly productive on offense. This is a long shot but the Lions might hold them to under 20 points?
K: Matt Bryant, Atlanta Falcons:
Atlanta attempts a lot of field goals and just scores a lot of points in general. Bryant is 17 of 18 on the season and the Falcons are matched up against a middle of the road Tampa Bay defense on Thursday. So he should have a couple opportunities at field goals or at least a lot of extra points.