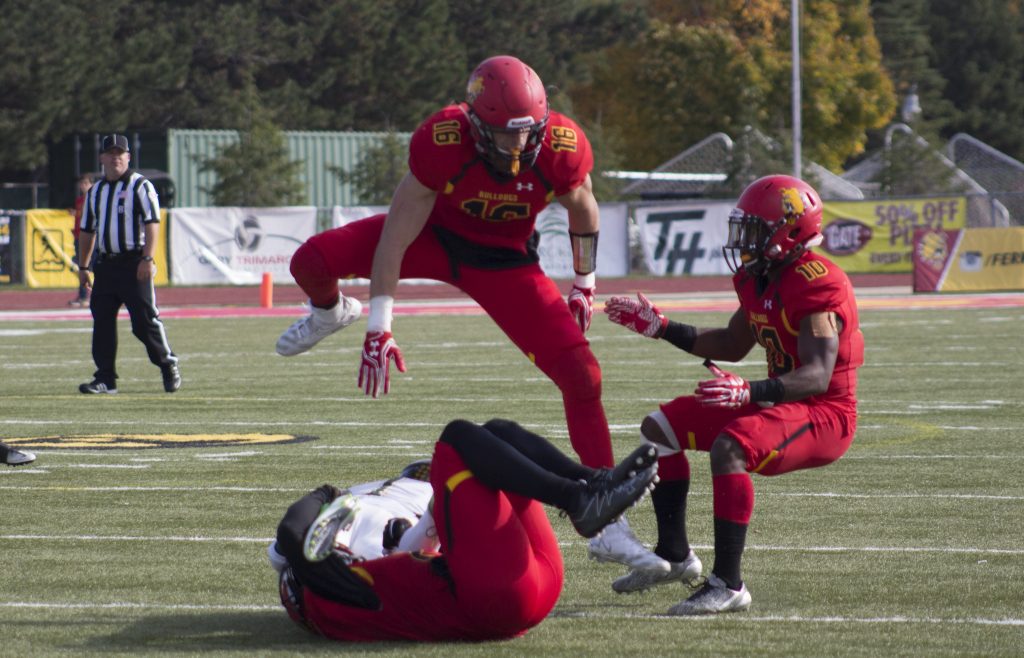 The Bulldogs snapped their five-year losing streak to the Hillsdale Chargers behind a ferocious defense.
Andy Brown, the announcer for Hillsdale Charger football on WCSR radio summed up this game perfectly when senior quarterback Trevor Bermingham replaced junior quarterback Reggie Bell late with the game out of reach. Bermingham put the Bulldogs into the red zone with a pass to senior tight end Kyle Thompson, prompting Brown to say, "This has just turned into an old fashioned whoopin'."
Bermingham delivered a 17-yard strike to senior receiver Kenny Feyh for a touchdown right after to put the score up 41-14. The Chargers scored late but missed the kick for a final score of 41-20.
The Dawgs defense clenched their jaws on the Chargers and did not let go in this road game. Hillsdale failed to move the ball with the suffocating run defense closing gaps, allowing only 26 yards rushing. The Chargers earned 115 of their 338 passing yards on two deep touchdown passes. Those were also two of only six first downs in the first three quarters.
Ferris got after the quarterback often earning four sacks with sophomore defensive end Zach Seiler getting a sack in his seventh consecutive game. Junior linebacker Nick Huckabay led the team with eight tackles.
Junior running back Jahaan Brown led the team in rushing with 140 yards and two touchdowns. He scampered to several first downs including multiple third and longs. His biggest gain of the night came on a 65-yard touchdown run up the middle.
Bell came behind with 77 yards and two touchdowns. He capitalized on a first and goal from the one-yard line. Then in the fourth quarter, Bell faced a fourth and one from the Hillsdale 25-yard line. He took the quarterback draw to the house to put the Dawgs up 34-7.
In addition to the ground game, Bell threw for 147 yards including a 47-yard touchdown to sophomore Malik Taylor. Taylor had his best game of the year catching eight balls for 102 yards.
With this win, the Bulldogs move a step closer to the playoffs. If they win their last game of the season against the Saginaw Valley Cardinals, then they may get their shot at another post-season run.
The Dawgs face the Cardinals in Big Rapids on Saturday, Nov. 12, at 1:00 p.m.