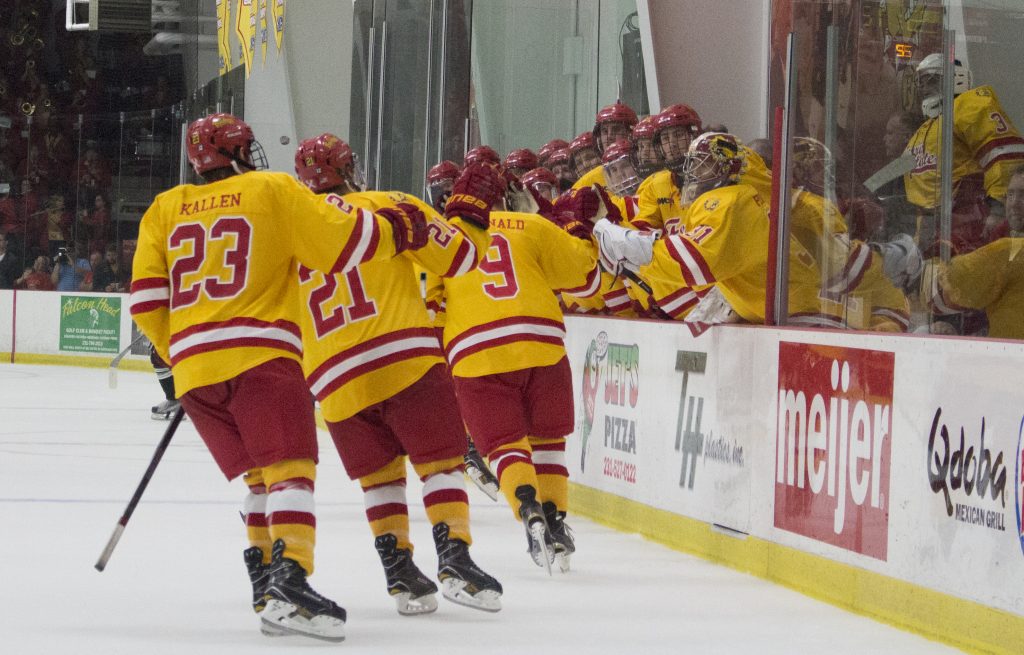 Fists flew in Ferris State's intense 3-1 victory over the Bowling Green State University Falcons, giving the Bulldogs their second win of the season.
Bulldog freshman forward Taylor Fernandez found the back of the net for his second goal of the season at 6:26 in the first period to put Ferris up 1-0. Fernandez's goal was the only goal of the first period. Freshman goaltender Justin Kapelmaster got the start for Ferris and made it count as he shut the Falcons out in the first.
Things got chippy in the second period as the two teams traded goals to make it 2-1. The Falcons struck first when freshman forward Lukas Cragg netted his first collegiate goal at 8:52 in the second.
Ferris State's response came courtesy of junior forward Drew Dorantes as he was able to sneak one by Falcon goaltender Chris Nell at 12:11. Dorantes goal was helped by a Ferris State power play, the first and only power play goal of the game.
The third period saw standout senior forward for the Bulldogs Gerald Mayhew put the final nail in the coffin, netting a goal at 3:21. The goal came on a Falcon power play, making Mayhew's goal even more impressive.
Taking over for Darren Smith who didn't get on the ice, Kapelmaster ended his night with 20 saves, only allowing one goal on the night.
Ferris is back in action against the Michigan State Spartans at 7:05 p.m. on Thursday, Nov. 10 in East Lansing before returning to Big Rapids to host the Spartans at 7:07 p.m. on Saturday, Nov. 12, in Ewigleben Ice Arena.