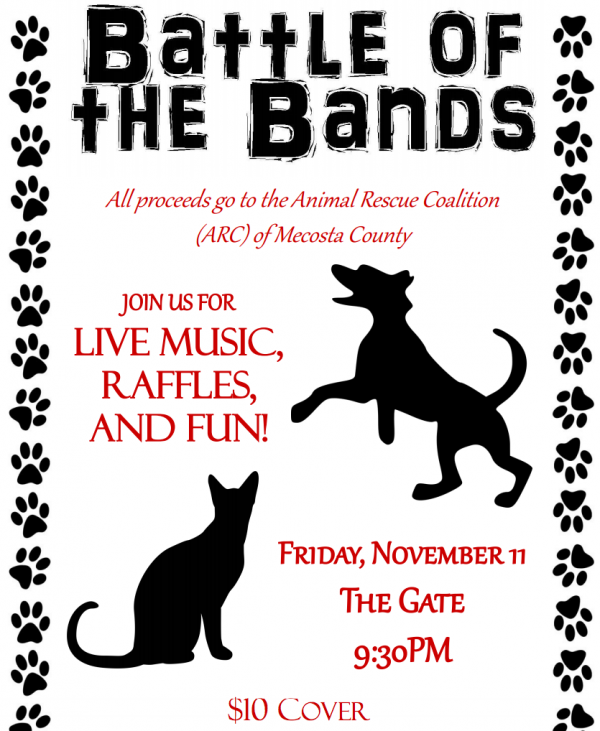 Love music but love dogs and cats even more? Then go to The Gate this Friday to watch Ferris musicians compete in the Battles of Bands benefit for Animal Rescue Coalition (ARC) of Mecosta County!
Battle of the Bands for ARC will kick off at 9:30 p.m. Friday Nov. 11. The show will be all ages and the cover charge is $10, regardless of age.
Ferris State music industry management seniors Brooke Windsor and Alexanna McKessy and hospitality management seniors Holly Austin and Andrea Gonzalez arranged the competition as part of a project for their Event Management I class, taught by professor Amy Dorey.
"We have to put together an event for a nonprofit organization, so we decided to work with the Animal Rescue Coalition of Mecosta County," said Windsor.
The three Ferris musical groups competing this Friday are:
Dogshirt- indie rock project led by Ferris music industry management senior Jordan McNaughton.
City Sun- alt rockers comprised of Ferris music industry management students Devin Vargo, Nathan Seifferly and Patrick Cunningham. City Sun will also be performing this week for Torch Jams.
Yung Lungs- indie folk by Ferris music industry management students Alex Fiolek and Zachary Kidder.
Proceeds will be split 50/50 between the Gate and donations to the ARC. There will be a raffle for those in attendance with the opportunity to win gift certificates from local businesses.
All three performers will receive gift certificates and the one chosen as fan favorite will receive a bonus to their prize.
The work of these four students will not only satisfy the requirements for their class, but gives Ferris musicians a chance to showcase their music, gives students something to do Friday night and most importantly, raise money for the ARC located right here in Big Rapids.
Windsor stated, "There's not a lot to do in Big Rapids as we all know, so come watch music Friday night at the Gate for a great cause."
Check out the Facebook event page, 'Battle of the Bands for ARC' for more information.
"Animals rock!" said McKessy.