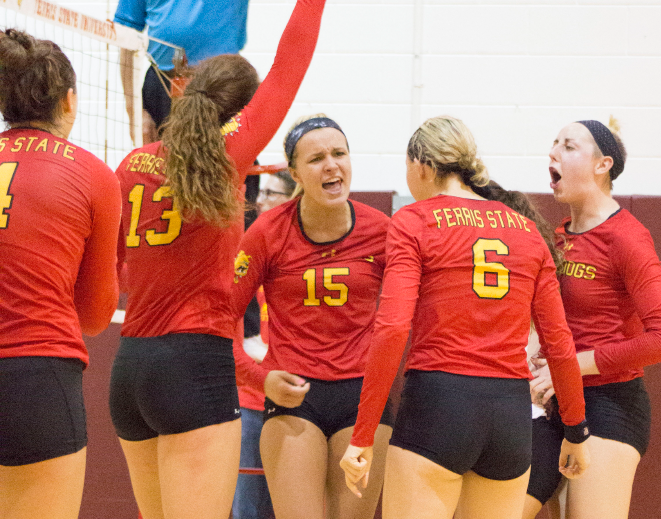 Ferris volleyball is heading to its sixth straight postseason with a team where leadership is shared between veterans and young players.
The 2016 Bulldogs have kept up a winning tradition this year, compiling a 23-5 record. They have rattled off 19 straight wins, including two GLIAC victories last weekend that clinched a GLIAC North title.
Head coach Tia Brandel-Wilhelm said: "The whole team, every single player has stepped up their leadership. It's the cohesion and dedication to the program that has led them."
Fifth-year senior setter Jenna Way is a captain on the team and has been one of the best leaders on and off the court.
Brandel-Wilhelm said: "She serves her team in every way. She helps her fellow seniors and is there for the freshmen. She's constantly setting the standards and holding us as a team to those high standards."
Another veteran Bulldog captain is senior setter Stephanie Sikorski. She's a creative finisher at the net, but is also skilled at setting up her teammates for the right hits. Sikorski ranks second in the GLIAC in assists per set with 10.71.
"As a returning starter, she's played with a lot of new players, young players," Brandel-Wilhelm said. "She's been focused this whole season on being steady for them and being a good leader for the team."
Sophomore hitter Katie Placek has earned the respect of her peers being anointed as a captain in her second year. She has been an emotional "rock" for the Bulldogs this year.
"She is constantly the one that keeps us focused and even-keeled," Brandel-Wilhelm said.
Along with Placek, freshman hitter Allyson Cappel has been one of the young players leading this team. Cappel leads Bulldogs in hits with 3.41 per set and is third in blocks and digs. Cappel also leads Ferris with 405.5 on the year.
With this culture of collective leadership, the Bulldogs have put themselves in a great position for a deep postseason run.
The Bulldogs sit at No. 1 in the Midwest region for the second straight year with two games remaining—both at home. Ferris has beaten both the Hillsdale Chargers and Northwood Wolves three sets to none the last three years. Nothing is a given but the Bulldogs should take care of business against the 7-8 Chargers and 4-11 Wolves.
If this is the case, the Bulldogs will finish 25-5 overall, already holding the No. 1 seed in the GLIAC tournament. This gives Ferris home court advantage throughout the tournament.
However, looking ahead can be dangerous. Upsets are always a threat in college athletics, even for a two-time defending GLIAC champion team on a 19-game win streak.
"We just had a great weekend and the wins are great, but that's in the past," Brandel-Wilhelm said. "We're excited about the playoffs but that's in the future. We're focused on the present and what's next up."
With two home games remaining, the Bulldogs have some work left. The first game will be against Hillsdale 7 p.m Friday, Nov. 6,with the second 5 p.m. Saturday, Nov. 7.
The GLIAC tournament will begin Wednesday, Nov. 16.