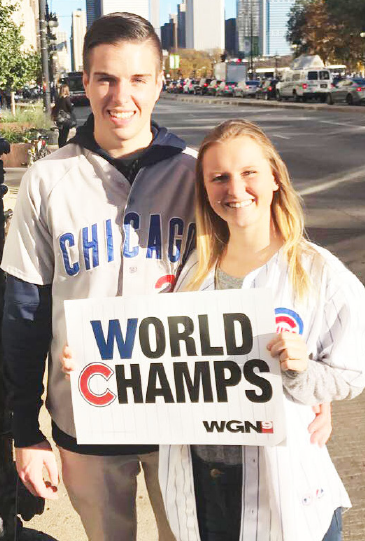 Last week, many Ferris students traded in their traditional crimson and gold clothing and broke out the blue shirts and the pinstriped uniform tops.
The Chicago Cubs won their first World Series title since 1908, breaking an infamous curse and causing celebration everywhere, including Big Rapids.
"It literally meant the world to me," said Ferris psychology junior Allyson Pascarella. "I've been a fan all my life and went to plenty of games over the years that it was awesome to be able to witness them win the World Series in my lifetime."
Pascallera, who watched the game here in Big Rapids, added, "I watched the entire game at Buffalo Wild Wings, but made it home just in time to watch extra innings because of the rain delay. So when they won, I turned up the volume of the TV [and] jumped around in my living room hoping I didn't wake some of my roommates up."
Some students even took their celebrations from campus to Chicago for the World Series Parade to rejoice with millions of other Cubs fans.
Ferris professional golf management senior Quinn Campbell went to the parade not only for himself but for his late grandmother, too.
"For them to win was pretty much the icing on the cake," Campbell said. "I was cheering for two people. My great grandmother was a die hard fan all her life and the one who got me into the fan base more than anything else. She knew every player and their stats."
According to Campbell, his grandmother knew the Cubs would be back in the World Series after losing to the New York Mets in 2015, but passed away before she could see this year's title.
"She passed away last December believing that and I thought it was just the typical positive attitude of a Cubs fan. I didn't realize the severity of her statement until game six against the Dodgers. The entire celebration, parade and being down here for it all was for her. Not me," Campbell added. "I inherited her old Cubs bucket hat and haven't taken it off the entire playoffs. It was with me in Chicago as I stood next to Wrigley."
Ferris accounting senior Reed Pifer and his girlfriend, Ferris dental hygiene sophomore Tori Berry were also in attendance of the parade.
"It's been 108 years, so I had tears in my eyes when it actually happened. I've been a Cubbies fan since I was born so this parade and them winning it all was a dream that I couldn't even have imagined," Pifer said.