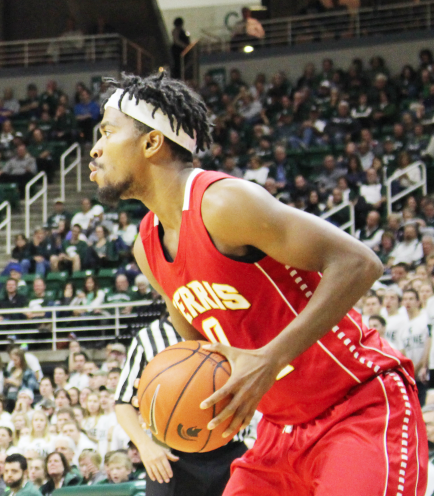 The basketball season is quickly approaching for both the Ferris State men's and women's basketball teams.
I have made five (very) bold predictions that could possibly occur during the 2016- 2017 campaigns for both Bulldog basketball squads. Here they are.
Men's Basketball
1. The Bulldogs' three-peat in the conference tournament—Ferris State won the last two Great Lakes Intercollegiate Athletic Conference (GLIAC) Tournament Titles, last year as the No. 6 seed in the tournament. I think this year, the Bulldogs will come into that tournament with a much higher seeding but end with the same result: a GLIAC Tournament Championship.
2. Drew Cushingberry wins GLIAC Player of the Year—Cushingberry was quiet against Xavier in a preseason exhibition, but his opponents won't be as top notch as the No. 7 ranked team in Div. 1. Cushingberry had a great GLIAC Tournament last year, and with the departure of Ferris State's top three scorers, look for Cushingberry to step up big this season.
3. The Bulldogs average the most points per game in the GLIAC—Ferris State averaged 78.9 points per game last year, which was fourth in the conference but only 2.7 points back from Lake Superior State at No. 1. The Bulldogs were 13th in shooting percentage though, so if they can bump up that percentage they'll score a lot more considering they attempted 76 more field goals than any other team in the conference last season.
4. Ferris makes it to the Sweet Sixteen, at least—Ferris' run to the Sweet Sixteen in the Div. 2 tournament was impressive last year. I think they will make it to the tournament and at least make it to the Sweet Sixteen. Don't be surprised if the team gets hot late like they did last season and makes an even deeper run into the tournament.
5. Ferris leads the GLIAC in rebounds—I guess this isn't THAT bold considering the Bulldogs were the top rebounding team in the GLIAC last year. But isn't it hard to do that stuff twice in a row? The Dawgs did lose their top-three rebounders to graduation, but they have some height with 6-foot-10 sophomore Zach Hankins and three other players at 6-foot-7 or taller, which could result in the Bulldogs being fierce on the glass.
Women's Basketball
1. Over .500—Predicting that a basketball team goes over .500 isn't typically considered a "bold prediction," but with the Bulldogs finishing last season with a 5-23 record while being predicted to be 7th out of eight teams in the GLIAC North preseason coaches poll, it is pretty bold.
2. The Bulldogs make the GLIAC Tournament—Ferris State was 5-17 in the GLIAC last year, which was second to last in the conference. They were seven conference wins away from making the tournament, but this is a new year with new players. It could happen.
3. Rachel McInerney leads GLIAC in points—Rachel McInerney was a steady source of very good play for the Bulldogs last year. With the departure of Alexis Huntey to graduation, I think McInerney will take on an even bigger role and average close to 20 points a game. The junior is no stranger to taking charge on the offensive end and I think she will do the same this year, with even better results.
4. Ally Christman makes at least 55 three balls—After watching Christman in a three-point shootout during a charity game last year, one thing is apparent, she can shoot from behind the arc just about as good as anyone I've seen. She went 4-of-9 from deep in Ferris' exhibition game against Bowling Green. If she's shooting nine three-pointers a game, I think she can average just over two three-point field goals a game this year regardless of how many she shoots.
5. Bulldogs have two All-GLIAC players by years end—Last year Rachel McInerney was Ferris State's only All-GLIAC player but this year I think the Dawgs will add one more player to that list and I think it will be Ally Christman.
We'll have to wait an entire season to see how these pan out but we'll get a first look at both teams this upcoming week.
Ferris men's basketball will take on Missouri, St. Louis in the GLIAC/GLVC Classic 8:15 p.m. Friday, Nov. 11, in St. Louis and against Quincy the following day at 6 p.m.
Ferris women's basketball will take on Bellarmine (Kentucky) 6 p.m. Friday, Nov. 11, at Wink Arena in Big Rapids to begin the Bulldog Classic.