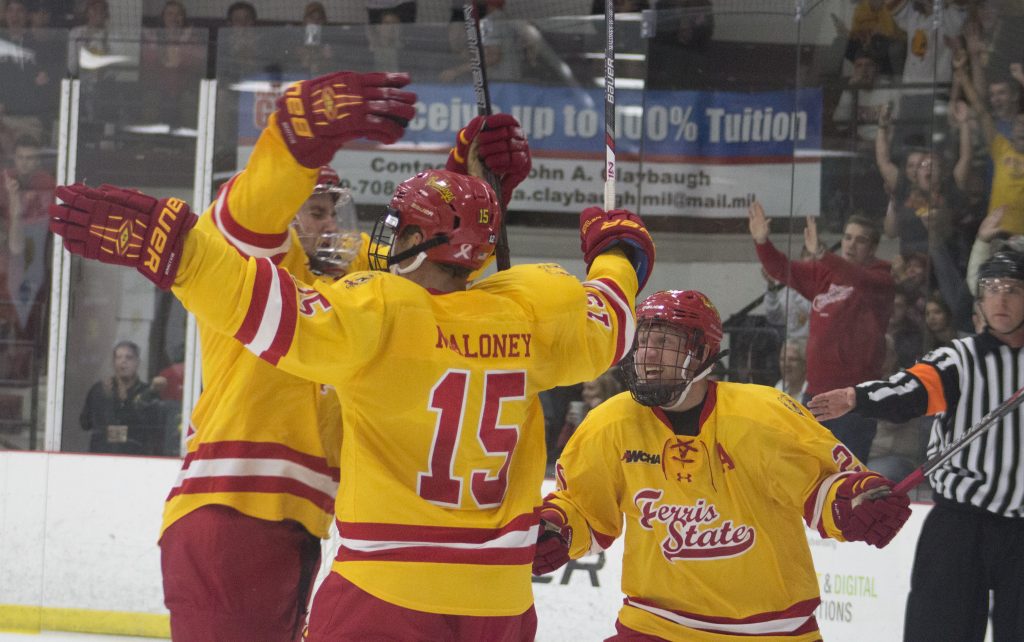 Ferris hockey earned its second straight win against the Michigan State Spartans with three power play goals in East Lansing.
Ferris was in the penalty kill six times on Thursday, Nov. 10, but the Spartans fell victim to the Bulldog power play. Junior forward Mitch Maloney capitalized on the Dawg's first power play of the night, grazing the pipe for a score off assists from senior defender Ryan Lowney and sophomore defender Ryker Killins. Ferris was up 1-0 8:01 into the game.
The Bulldogs would put the game out of reach in the second period. Two Spartans were called for penalties in the second minute of the period which gave the Bulldogs a 5-3 power play. Killins and Lowney combined again to assist senior forward Gerald Mayhew for a goal. Freshman defender Joe Rutkowski scored off an assist from sophomore forward Corey Mackin a minute later to put the Dawgs up 3-0.
The Spartans scored later in the second period, but that would be their only goal despite outshooting the Bulldogs 32-27.
Mackin got a goal of his own, scoring on an empty net late in the third period off an assist from sophomore defender Zac Tierney to finalize the score at 4-1.
Justin Kapelmaster played well between the pipes for the Dawgs. The freshman goalie allowed one goal with 31 saves.
Ferris is now 3-8-1 overall on the year after earning three wins in the last four games. The Bulldogs seem to be on a positive trajectory with this road win.
The Spartans will make the trip to Big Rapids on Saturday. Ferris will look for its third straight victory against Michigan State at 7:07 p.m. Saturday, Nov. 12, in Ewigleben Arena.