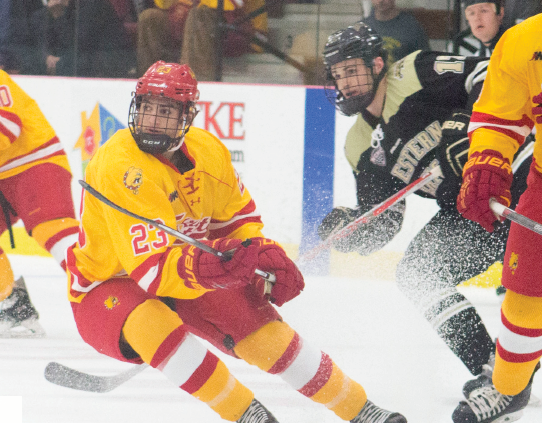 Just like your dad trying to outperform his neighbor by buying the best lawnmower on the market, Ferris State and the other Div. 1 hockey teams in Michigan are always looking to one-up each other.
Bulldog hockey has played three of the six Div. 1 teams in the state so far this season and have come away with no wins in regular time. The Bulldogs have sufferred losses to Western Michigan, University of Michigan-Ann Arbor and Northern Michigan, with their only points coming in a shootout victory against Northern Michigan.
Though the team's current 2-8-1 record may show otherwise, senior forward Gerald Mayhew is starting to see some team improvement as the season rolls on.
"I think we are playing better hockey as a team and not just individually," Mayhew said. "Everyone seems to be pretty comfortable with the speed of the game. Each game we lost has been by only one goal so I think earlier we really weren't getting bounces but now we seem to be getting some breaks."
The Bulldogs picked up their first victory of the season against Minnesota State Saturday, Oct. 29—their only victory of the first month of play. The Dawgs' second win came with a victory over Bowling Green State Saturday, Nov. 5.
With Ferris' rough go this year against the Div. 1 teams of the state, one may question their ability in the future to appeal to top in-state recruits over the other schools. Mayhew gave a clear answer to that question by presenting Ferris' recent history as his argument.
"While I do believe the win-loss record matters, Ferris has been doing very well the last five or six years and I think making it to the NCAA tourney helps a lot," Mayhew said. "There are so many good hockey players out there, so finding good players is not very hard."
During the 2015-2016 season, Ferris State suffered losses to University of Michigan-Ann Arbor, Western Michigan and Northern Michigan, but still went on to win the WCHA and go deep in the NCAA Tournament.
Senior defensemen Ryan Lowney emphasized the fact that those type of matchups are huge, but he doesn't think victories over them play a huge part in recruiting talent to Big Rapids.
"When we play teams like Michigan, State or Western, those are always going to be big game rivalries that go back to when we regularly played them in the CCHA," Lowney said. "Those games are always fun to play in."
Lowney is one of four remaining seniors in this Bulldog hockey program and the only defenseman of the four.
"I don't think it plays a part in recruiting. Is it fun to beat those teams? Of course," Lowney said. "But I think if you look back over the course of the last seven years, I think it is safe to say that Ferris has made a pretty solid name for itself."
If Ferris State is unable to pull off a win in this weekend's matchup against Michigan State, they will be 0-6-1 this season against Michigan-based teams with only Lake Superior State and Michigan Tech left to play.
With a whole lot of hockey left to play in the 2016-2017 season, Mayhew has one message for his team.
"Winning is winning. It doesn't matter who it's against," Mayhew said.
The Dawgs make the trip to East Lansing to take on the Spartans 7:05 p.m. this Thursday, Nov. 10. With a Friday break in between, Ferris will then host Michigan State 7:07 p.m. Saturday, Nov. 12.