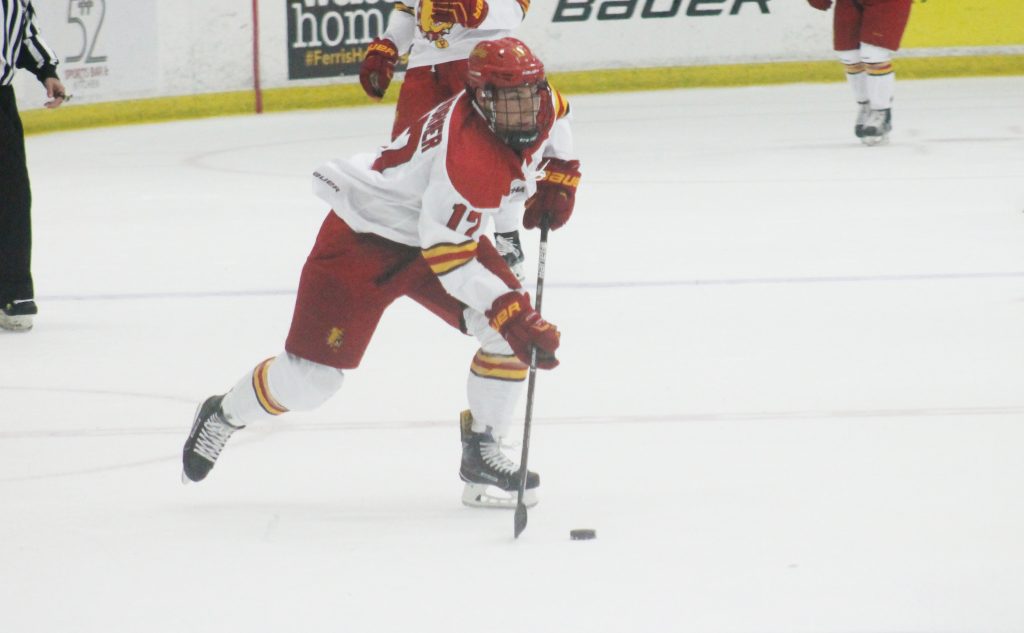 Coming off of a dominating win over the Spartans on Thursday night, Ferris State hockey went down at the hands of Michigan State with a final score of 4-3.
Sam Saliba struck first for Michigan State early into the first period at 1:27. The speedy goal didn't discourage the Dawgs though, as three goals came quickly in succession for Ferris in the first period.
The onslaught of goals began with junior forward Drew Mayer who put one in at 4:04 with assists from sophomore forward Craig Pefley and senior defenseman Ryan Lowney, 1-1 Bulldogs.
Not even two minutes passed by before senior forward Gerald Mayhew came back to put the Dawgs up 2-1 with a goal of his own at 5:42. Assists came from freshman forward Jason Tackett and freshman defenseman Joe Rutkowski.
Senior forward Jared VanWormer's turn was next, giving Ferris a strong 3-1 lead at 6:02 in the first. The Michigan State Spartans spent ten of their 20 first period minutes in the penalty box, giving the Dawgs the obvious advantage early on.
The Bulldogs elected to go with sophomore goaltender Darren Smith tonight, though freshman goaltender Justin Kapelmaster got the victory on Thursday night. With two saves on three shots for Smith, the Bulldog offense allowed for a relaxing first period for the sophomore.
The second period opened up with another Michigan State goal, this time on the power play, from Mason Appleton, bringing the score to 3-2 in favor of the Dawgs. Neither team scored again in the second as Smith closed the period with 11 total saves while Spartan goaltender Ed Minney ended the second with 17 total.
Things changed in favor of Michigan State in the third when Joe Cox put one in the goal at 9:02, tying it up at 3-3. The Spartan scoring didn't stop there as Appleton found the back of the net for the second time at 10:23 in the third period to give the Spartans the lead, 4-3.
The final buzzer sounded with Michigan State taking the game. Tensions were high between the two programs with plenty of time in the penalty box for both teams. The teams split their two game series with a win a piece.
Smith ended the night with four goals allowed on 21 saves. Minney finished the night with three goals allowed on 20 saves.
Ferris State hockey will be back in Big Rapids next weekend at 7:07 p.m. on Friday, Nov. 18, at Ewigleben Ice Arena.
For a photo gallery from the game, click here.