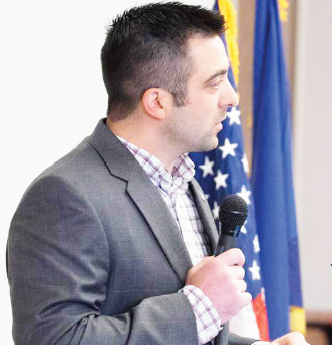 Ferris State University recently hosted a breakfast to honor Veterans from the student body, staff and Big Rapids community.
The event has been put on by Ferris annually for ten years on Veterans Day and Ferris' Associate Director of Admissions Processes Charlotte Tetsworth has been tasked with organizing this event for the last five years.
"Personally, Veterans Day is a very special time for us to honor those who choose to serve our nation by preserving our freedom and protecting our citizens. When I really just stop to think about the sacrifices made in service to our country, I am overwhelmed with emotion," Tetsworth said.
The breakfast celebration invitees included student, staff and community veterans. After the presentation of the colors, each military branch's songs were played. Veterans from each branch stood up when their song was played and were recognized with a round of applause.
Ferris mechanical engineering sophomore Adam Lassen did three deployments in Iraq with the Marines before coming to Ferris.
"This is a pretty relaxed college atmosphere compared to what you see on the news with some of these very liberal colleges. I think Vets can fit in here a whole lot better than like UC Berkeley, Brown or Harvard," Lassen said.
Lassen expressed his gratitude to veterans, especially those missing in action (MIA) and prisoners of war (POW), for which there was a memorial in the front of the room called the POW/ MIA Table. A marine veteran read aloud the different symbols involved in the POW/MIA Table.
Also included in the celebration was a short speech by Ferris President David Eisler, a performance of the National Anthem by Ferris' Acappella group the Vibrato Vibes and a keynote speech by founder of Section 1776 Clothing Company Matt McDaid.
McDaid was a Marine Scout Sniper before returning to the states, graduating from Western Michigan University and starting his own company. A portion of every sale has been donated to veteran non-profits.