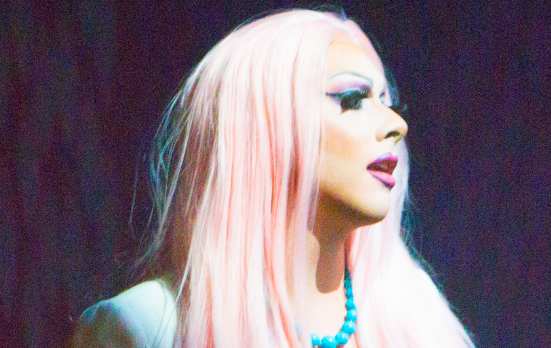 Queens performed a light-hearted and fun show to an enthusiastic crowd of Ferris students and Big Rapids residents at The Gate.
The third annual Power Diva Night, associated with RuPaul's Drag Race, took place 10 p.m. until close Saturday, Nov. 12, and gave Big Rapids some alternative entertainment along with promoting LGBTQ awareness.
The drag show performers came from Grand Rapids and Kalamazoo to perform to the crowd of birthday goers, revelers and members of Ferris' LGBT community.
"The drag show is one of the annual fall drag shows at The Gate," said Ferris advertising junior Lucas Gillis. "Basically, it's a celebration of the LGBT community, and it's just a really cool different type of entertainment for the Big Rapids community."
The usual type of entertainment in Big Rapids is usually one of the local bands or a DJ performing at one of the local venues, including The Gate. Power Diva Night provided a much-needed outlet, according to Gillis.
"It's a much more positive and energetic environment," Gillis said. "We don't get a lot of drag shows, so there's gay folks celebrating who they are and dressing how they want to and acting how they want to. It's a very liberating experience."
Ferris hospitality senior Justin Stevenson said the drag shows put on by Diverse Sexuality and Gender Alliance (DSAGA) have been something he thoroughly enjoys participating in and he draws on events like these for inspiration.
"I started doing drag in the spring of 2014," Stevenson said. "So, I created my alter ego named Sasha Giselle Carter and I formed that name from Beyoncé's name. I created my drag name to get more inspiration from women."
Stevenson said he wanted something in his life he was good at and that made him feel confident about himself.
"My first year was in the spring of 2014, and that's when I won people's choice for crowd favorite," Stevenson said. "Drag is really an inspirational activity. It helps get you out of your comfort zone and out of your box."
While Ferris State University is a safe zone that provides a place to learn and grow, Stevenson said he plans on expanding out of Big Rapids and performing drag shows in his hometown of Detroit.
Ferris graphic design alumni Kevin Maenle, performing as Vanilla Monáe, said it's a good but also mixed feeling to be back in Big Rapids for a show like this. He also had some advice for aspiring performers.
"Every Tuesday at Rumors nightclub in Grand Rapids, there's an amateur cabaret," Maenle said. "It's free to do, and you can go down and do whatever you want for three numbers. The pride show in the spring is always a good way to start, too."