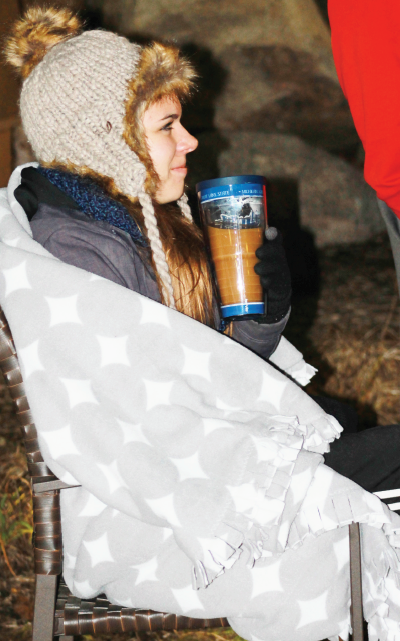 As students bundle up to brave the cold, it's important to keep in mind those who don't have a warm place to sleep at night.
Students at the Ferris campus chapter of Habitat for Humanity spent the entire night Friday, Nov. 11, sleeping outside in cardboard boxes in front of the Rock Cafe to raise awareness for the homeless.
"We've been planning it since probably about the beginning of the school year, more seriously within the last like five weeks," Ferris pre-pharmacy junior and president of the campus chapter of Habitat for Humanity Rachel Mitchell said. "This event is important because it's kind of just a way to spread awareness for the homeless and just getting people to know that Habitat for Humanity is a thing here at Ferris. Not a lot of people know about it."
Students who participated brought pillows, blankets and s'mores to enjoy around a fire they built themselves.
They also wrote statistics on the boxes about homelessness in the U.S. from frontsteps.org and collected more than $50 for Habitat for Humanity throughout the night, according to Ferris pre-med junior and community outreach chair for the organization Chris Hart.
"Our event went great, besides it being so cold," Hart said. "We don't usually raise a lot of money during this event but we do have a lot of people—a lot of students and people from the town—come up to us and ask us what we're doing and then we explain. So really it's just a way to inform people of what's going on."
According to frontsteps.org and the National Alliance to End Homelessness, there are approximately 633,782 people who will experience homelessness on any given night in the United States. 22.1 percent are children, 13 percent are veterans and 42 percent are disabled and unable to work.
"It's a good event and it's a good way to kind of put yourself in people who actually are homeless' shoes and really appreciate what you have," Hart said. "It's sleeping outside for a whole night and it really allows you to really experience what they go through every day."
The main causes of homelessness, according to frontsteps.org, include poverty, lack of affordable housing, job loss, lack of health care, mental illness, substance abuse and domestic violence.
"When I found out there was an RSO on campus, I wanted to join and be a part of that and this event is just a good way for us to let people around campus and like the public [know] because it's right by the Rock," Hart said.
Big Rapids has a number of homeless shelters including Our Brother's Keeper and Women's Information Service Inc. (WISE) for students who are interested in getting involved. For anyone interested in joining the Ferris campus chapter of Habitat for Humanity, the next meeting will be 8 p.m. Tuesday, Nov. 22, in the library's 24-hour room.