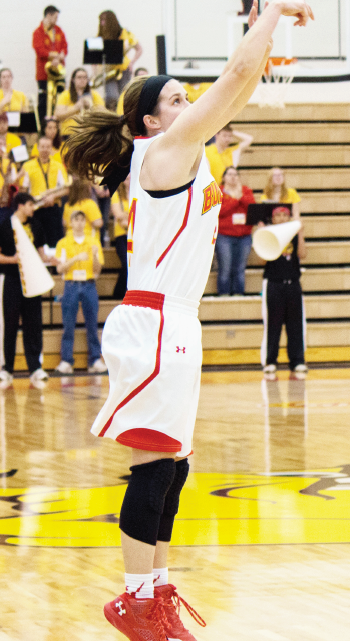 The women of the Ferris State basketball program finally made it back to the hardwood to kick-off the 2016-17 season.
Looking to get some wins rolling after last year's 5-23 record, Head Coach Kendra Faustin is entering her second year at the helm of the program. The Dawgs started their season against Div. 1 team Bowling Green State University in an exhibition matchup, losing 100-50.
"We want to play the best and it's the best way to get practice in a game setting," said Faustin of their matchup with Bowling Green. "I've been excited to watch us take steps offensively and make plays instead of running plays. We are competing. We practice to get better every day and we do get better every day."
To officially kick off their season, the Dawgs opened up action at home Saturday, Nov. 12, against Bellarmine University, losing 94-93 in an exciting overtime contest.
With only one senior on the team, the program is young and that is something that just may benefit the Bulldogs, according to Faustin.
"Our leadership is outstanding," Faustin said. "It has been from the end of last season when our captains, Rachel [McInerney] and Hannah [Evo], organized training camps over the summer for the team to get together and assigned 'accountability partners' for our team."
Faustin said that the team sticks to their core values such as accountability and trust, giving each woman a responsibility to her team. McInerney, who had a double-double, is confident in this young team to be able to go above and beyond Ferris teams of the past.
"This is my third year at Ferris and my first two years I was a part of special teams no doubt, but neither of those teams were as focused, determined and hungry as we are," McInerney said. "Every single one of us is bound and determined to make this a great season."
The Dawgs took on Ursuline College Sunday, Nov. 13, in a 91-61 losing effort to close out the Bulldog Classic, bringing their overall record to 0-2.
Forward Joslyn Nicholson, a transfer student in her second season as a Bulldog, is the only senior on the team for the Dawgs. Though it is early in the season and the team sits at a record of 0-2, she is already seeing many positives from the team.
"I think we are doing such a great job of using each other's strengths to get the best open shot or defensive stop possible," Nicholson said. "We work very hard to fulfill our individual roles, which essentially creates great plays for us."
The women will be back on the court for a big exhibition matchup on the road against East Lansing 12 p.m. Wednesday, Nov. 16.
The Dawgs pick up regular season play again 7:30 p.m. Friday, Nov. 18, against Pittsburg State University in Kansas for the Pittsburg State Tournament.