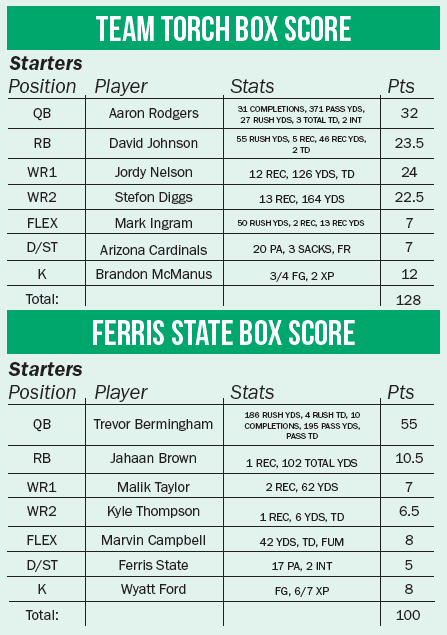 The Ferris State football team is headed to the playoffs for the third year in a row but their time playing Ferris Fantasy football is up.
The Bulldogs pulled off a big 51-17 win against Saginaw Valley State to get into the postseason, but despite a gigantic day from senior quarterback Trevor Bermingham, the Dawgs couldn't pick up a win against my lineup this week.
Bermingham started the game in place of junior quarterback Reggie Bell, as Bell insisted that the senior get a shot to start on senior day in Big Rapids. Bell's class proved to not only work but work very well. Bermingham ran for 186 yards on just eight carries and scored on half of those runs for four rushing touchdowns on the day. He also connected on one touchdown while throwing for 195 yards in the game and racked up 55 fantasy points
With Bermingham running for four touchdowns, it was tough for other players to gain a large amount of points considering the quarterback kept four of the touchdowns for himself. It also helped that the team I put together performed very well across the board.
Aaron Rodgers and the Packers found themselves down 21-0 early in their game against the Titans and had to throw the ball all day, while connecting with Jordy Nelson for 12 passes and a touchdown.
Stefon Diggs of the Minnesota Vikings picked up where he left off last week, bringing in 13 catches for 164 yards, but he wasn't able to find the end zone. Arizona Cardinals running back David Johnson did what he has done all season long, catching passes out of the backfield and getting a steady feed of carries on the ground. He found the end zone twice on the day.
With a 128-100 victory from yours truly, I improved to 6-4 on the season after a big scare from the Dawgs who beat me for three consecutive weeks to cut my lead from 5-1 to 5-4. With the end of Ferris Fantasy football, we'll just be able to focus on the Bulldogs themselves as they try to make a run deep into the NCAA Div. 2 playoffs.
The Bulldogs have been awarded the No. 2 seed and will take on the No. 7 seed Midwestern State Mustangs 12