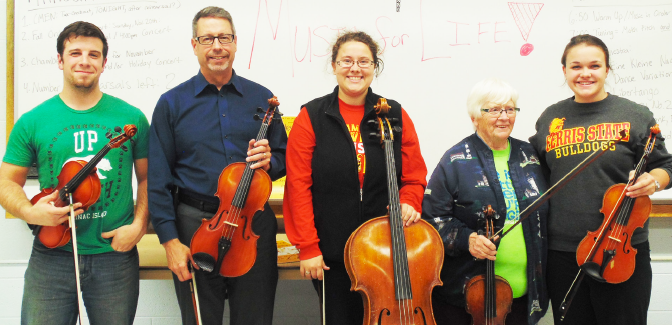 Ferris and Big Rapids musicians will perform in the season's final concert 4 p.m. Sunday, Nov. 20, at Williams Auditorium.
'Music for Life' is a motto taken to heart by Ferris State University's West Central Chamber Orchestra, a volunteer orchestra consisting of college freshmen to 80-year-old community members.
"The orchestra encompasses Ferris students and people from as far away as Rockford who come play with us every week," said Ferris professor of music and Director of Instrumental Concert Ensembles Richard Cohen. "I love working with our students and community member musicians. This is the largest number of Ferris students we've ever had in the orchestra and there's a lot of enthusiastic, energetic, talented members."
Ferris does not have a music major so all musical groups consist entirely of volunteers.
"Students who have experience can continue to nurture the music that you love," Cohen said. "My goal is to get them involved and engaged. They'll be comfortable playing in community bands and continue to make music for life."
According to Cohen, the group can be taken for credit as a class or not and activity-based scholarships are awarded.
"I was really excited that I didn't have to pay for the class, I could just play," said Ferris public relations senior and cello first chair Morgan Payne. "It felt more relaxed than other schools. It was nice to be able to come play without worrying about where I would end up."
Ferris pre-optometry junior and violinist Megan Eagloski encourages any students who play an instrument to join the music program.
"It's a very positive experience," Eagloski said. "You get to meet a lot of people outside your normal day-to-day activities and it helps you to focus and grow. Music is life. I play because I really love music. It's a stress reliever for me, and having practice every week is kind of like my get-away from the stress of classes and responsibilities."
The love for music can be seen to extend far beyond school within the orchestra.
"I first played here as a student from 1977 to 1980," said Ferris assistant dean of the optometry school and violinist David Durkee.
Durkee returned to Ferris in 2012 and began playing with the orchestra again.
"I'd always loved orchestras," Durkee said. "When I graduated I still kept playing in churches and string quartets and in high school musicals but I hadn't played in an orchestra since I left. The opportunity to play again is what I love. It's exciting and there's some beautiful pieces."
Durkee emphasized the perspective being a student in the orchestra and now a community member as his favorite part.
"The transfer of knowledge from the beginning on up and sharing that with students is really neat," Durkee said. "I just love being here and being able to play with everyone and make beautiful music. It keeps you occupied and involved."
Ferris architecture freshman and violinist Cole Bazan said his favorite part of being in the orchestra was being able to play new music.
"I tried to pick a variety of styles that would be good for the audience, something for everybody to like," Cohen said about the selections for the fall concert. "Educationally, it's good to teach different styles to our members."
The upcoming concert features musical selections of various genres, including Mozart's "Eine Kleine Nachtmusik" and an original composition by community and former faculty member, Marshall Williams.