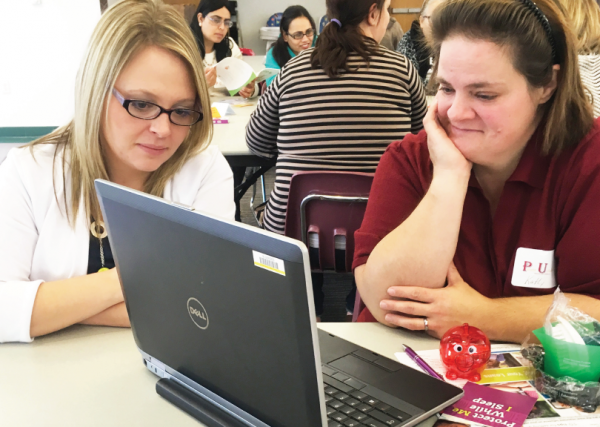 The balance between school and parenting can be exhausting for students, which is why Ferris' Students with Children program is providing support.
Parent University took place in the West Campus Community Center 11 a.m. Friday, Nov. 11.
"It gives the parents a chance to connect with some of the resources in our community and we just bring the resources to them. So, we allow them to interact, ask questions, get more information," said the Director of the Students with Children Program and Scholar Peer Mentor Program Karen GreenBay. "Some of those resources are what our families need whether they live on campus or off campus, so here their families are part of the community."
According to GreenBay, 24 parents RSVP'd to the event, although more attended throughout the two and a half hour block, as the event is open to the public.
"It was actually required by Tot's Place," said Ferris welding engineering technology senior and father of one Leonard Smith. "But we wanted to kind of see what it's about."
The event provided a kid-friendly atmosphere adorned with board games, food, candy and books. Children could be seen playing together while their parents went from station to station for open, informative discussions.
"I feel like you can never have too much information," said Ferris criminal justice junior and mother of two, Cindy Waddell. "You never know when you're going to stumble across that one thing that's helpful in your life or maybe even for a family member or friend."
There were ve different stations set up for resources such as FSU Financial Aid, MSU Extension, Great Start Collaborative Resource Center and the Children's Council. The keynote speaker was Delores Van Horn.
"Well, we learned stuff about nutrition and ways you can create different food groups or ways to incorporate [foods] like whole grain spaghetti into regular spaghetti so you can't tell the difference," Smith said. "Even the nancial side of things, I didn't realize that you can consolidate your loans through the department of education and so I thought that was interesting."
The Students with Children Program provides resources and free events to Ferris students all year round.
"I think that it allows people with kids to learn about things that they otherwise wouldn't do because, being a senior and everything, you're kind of swamped with school right now," Smith said.
Waddell and her two children have participated in previous events hosted by the Students with Children program, including a hayride where her youngest was thrilled to go on a eld trip with his mom.
"My kids are older and it's a nice way to incorporate them into my education a little bit versus them just seeing me stressed out and studying and getting kind of that bad taste in their mouth for college. There's a little bit of fun incorporated for them," Waddell said.
For more information about the Students with Children program, email studentswithchildren@ ferris.edu or search the Facebook page Students with