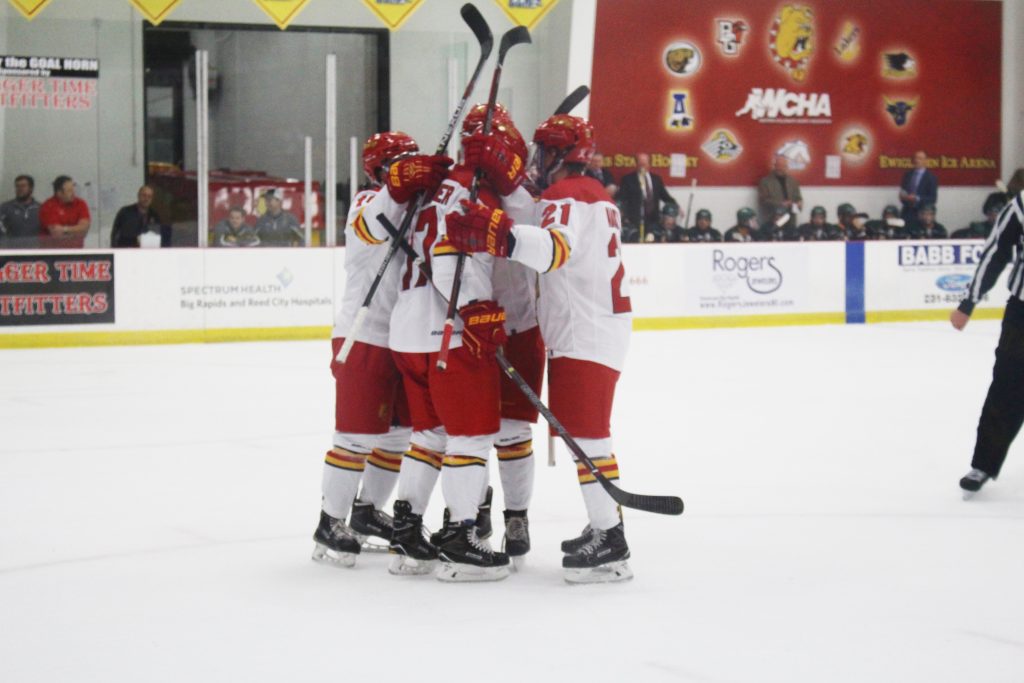 With a lot of help from freshman goaltender Justin Kapelmaster, Bulldog hockey defeated Lake Superior State University (LSSU) 3-0 in the 3rd Annual Kettle Call Game in support of the Salvation Army.
Kapelmaster got the start in goal for the Bulldogs while Gordon Defiel started between the pipes for LSSU.
Who else but senior forward Gerald Mayhew started the scoring off for the night when he snuck one in behind Defiel for his eighth goal of the year at 6:09 in the first. Assists on the goal were credited to sophomore forward Craig Pefley and sophomore defenseman Zac Tierney.
Despite two power plays for the Lakers late in the first, the Dawg defense held strong and rode out the remainder of the period shielding 13 shots on goal with a 1-0 lead.
The first half of the second period remained scoreless until Pefley was able to score a power play goal at 14:33. Kapelmaster racked up 40 saves, and he as well as senior defenseman Ryan Lowney were credited with the assist on the Pefley goal, which became Kapelmaster's first career point.
Second period scoring came to an end with Pefley's goal, Kapelmaster closed out the second with 25 saves.
The third period was scoreless until LSSU pulled their goaltender, allowing junior forward Mitch Maloney to sweep in to put the final nail in the coffin at 19:11, giving Ferris the 3-0 win. The final period once again dominated by Kapelmaster, as he ended the night with a shutout and his first home victory as a starter.
Defiel allowed two goals with 24 total saves on the evening.
With the first home victory of the season finally under Ferris State's belt, they'll host the Lakers again tomorrow night at 7 p.m. in Big Rapids at Ewigleben Ice Arena.