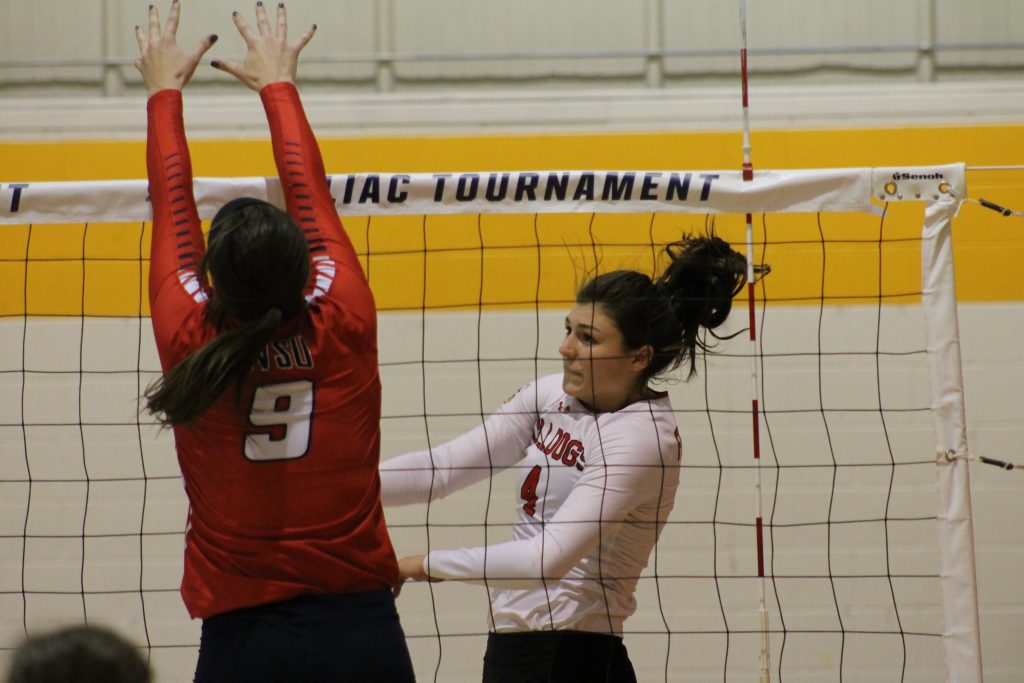 For a full photo gallery of the match, click here.
The No. 1 seeded Ferris State women's volleyball team (27-5) defeated the No. 4 seed Saginaw Valley State University Cardinals (19-11) 3-1 in the semifinal round of the 2016 GLIAC Tournament. The Bulldogs were led by freshman outside hitter Alyssa Campbell who paved the way for the Bulldogs with 12 kills and 16 digs.
Starting off the afternoon, Ferris was in control early. They never trailed after it was tied up early at 3-3 to win the first set 25-14. Once the two teams switched sides of the net, the game went a little off course for the Bulldogs. Again, both teams were trading kills with the tie lasting until 8-8. Then the Cardinals pulled away to win the set with their senior middle hitter Kaylee Schmitt tallying five kills in the set to even up the match 1-1.
Following the slip up in the second set, junior Ferris hitters Maria Kronner and Ayanna Buckley denied any attacks by SVSU as Ferris went on to take the 2-1 advantage in the match after winning the third set 25-13.
"I think we just focused on executing our game plan a little bit more. I think in the second set we got away from it a little and that gave them some chances to have really have some big swings," said Ferris State women's volleyball Head Coach Tia Brandel-Wilhelm. "We just tried to focus more on our game plan and stay clear of our side of the ball."
In the fourth set, it was business as usual as the Bulldogs were in control the whole way, winning it 25-18 to end the match.
Following the game, the 2016 All-GLIAC Volleyball Awards were announced to the capacity crowd.  Player and setter of the year went to Ferris State senior Stephanie Siroski who had 1,219 assists, 273 digs, 114 kills and 40 blocks in regular season. Freshman of the year went to Allyson Cappel along with Tia Brandel-Wilhelm being named coach of the year. Cappel and Sikorski were also named to the 2016 All-GLIAC First Team. Buckley received Second Team accommodations and junior libero Lauren Reminga was an Honorable Mention.  
The Bulldogs next play in the 2016 GLIAC Tournament Championship 3:00 p.m. Sunday, Nov. 20, at the Ewigleben Sports Arena against number three seed Ashland (23-9).