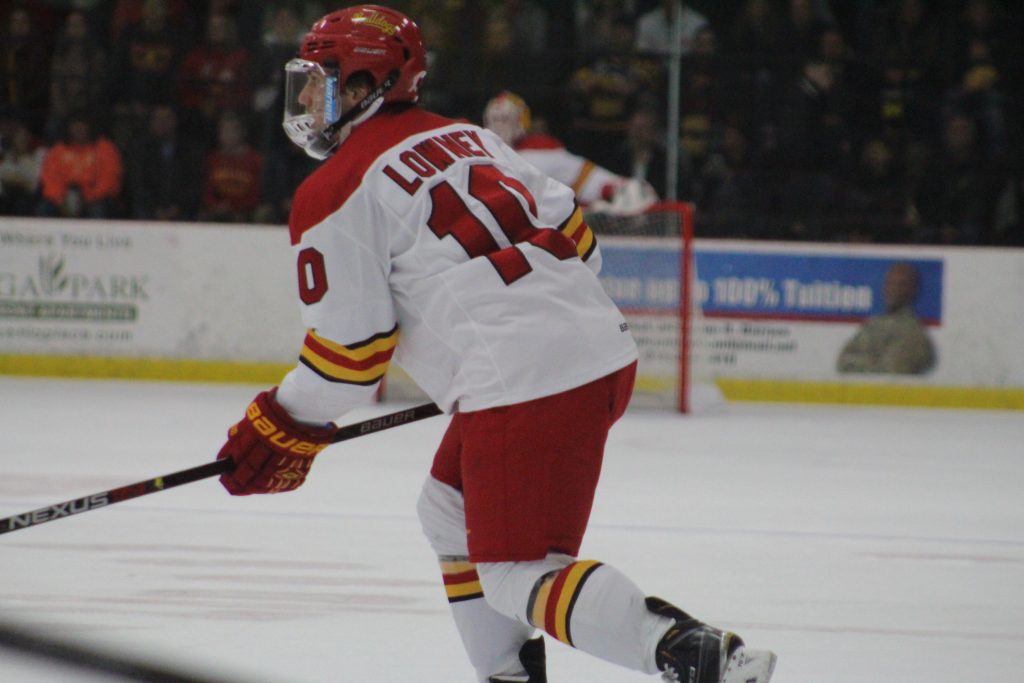 It was a night of firsts for the Ferris State men's hockey team on Saturday night as they defeated Lake Superior State University 7-5.
Saturday night marked the first time this season that the Bulldogs' scoring total eclipsed four goals. Players from both teams were getting in on the scoring onslaught as there were nine combined goals before the second period ended.
The night began with freshman defenseman Nate Kallen recording his first collegiate goal three minutes into the first period. Kallen's goal opened the flood gates for both offenses as they combined for six first period goals.
Sophomore defenseman Zac Tierney also found the back of the net for the first time on an assist from Mitch Maloney as the first period drew to a close.
Senior forward Gerald Mayhew got in on the party, as he scored yet another clutch goal. Mayhew recorded his ninth goal on the season in the third period, giving Ferris a two-point cushion and has now scored in the Bulldogs' last five games.
As good as the offense was in Ferris' victory, the defense just couldn't keep pace with the Lake Superior State Lakers.
Despite a spectacular 38 save performance by freshman goaltender Justin Kapelmaster, the Bulldogs struggled to stop the Lakers in the man advantage. Lake Superior State scored half of their goals while in the power play, going 3-6.
However, the most important first for the Bulldogs this weekend was the fact that they completed their first sweep of the season. The first sweep couldn't have come at a better time for the Bulldogs as they picked up two big wins heading into Thanksgiving break.
The Bulldogs improved to 5-9-1 on the season and will be back in action Saturday, Dec. 3 at 8:07 p.m. as they will be on the road against Alabama-Huntsville.