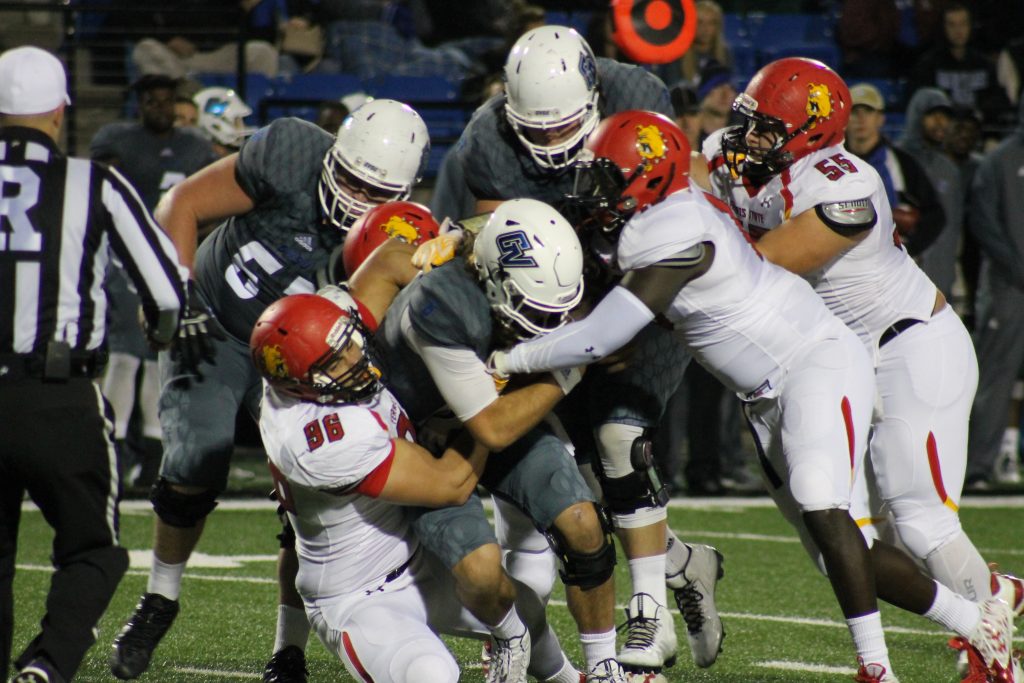 The Bulldogs advance to the third round of the NCAA Div. 2 playoffs after beating the Colorado Mines Orediggers at home 38-17.
The No. 2 seed Bulldogs pulled away at the end of the first half after being tied with No. 6 Colorado Mines most of the second quarter. The game was locked at 10 before senior quarterback Tyler Bermingham found senior receiver Shakur Sanders in the endzone for 14 yards. Less than a minute later, senior defensive back David Churchwell got his first interception of the day and returned it to the two yard line where Bermingham punched it in to make the score 24-10 to end the half.
The Orediggers struck first in the game on a five-play, 44-yard drive. The Mines receivers were out jumping Ferris defenders for contested catches and moved the ball with ease.
Both teams traded punts and then Ferris found an answer with junior receiver Marquel Hines setting the Bulldogs in Oredigger territory. Bermingham made a few more throws to set the Bulldogs at the three yard line where he punched it in.
Both teams traded field goals leading up to Sanders' touchdown drive.
Colorado Mines stopped the Bulldogs on the opening possession of the first half. The Orediggers then got closer with a 12-play, 80-yard drive that ended in a 16-yard touchdown pass.
They would go on another 80-yard drive on their next possession but were stopped on fourth and two from the three yard line. The Bulldogs delivered a demoralizing touchdown drive following. Sanders secured a pass from Bermingham at the two-yard line where Bermingham ran in his third touchdown of the night.
Ferris delivered the final blow on the next possession. The Orediggers were stuffed and punted after five plays, kicking the Dawgs to their own 17. A few plays later, Bermingham found sophomore receiver Malik Taylor for a 63-yard touchdown to make the final score 38-17.
Sanders had the best game of his career posting eight catches for 214 yards and a touchdown. Taylor had 93 yards on four catches.
Bermingham was responsible for at least five touchdowns the last three weeks in the absence of junior quarterback Reggie Bell. Bermingham led the team in rushing with 44 yards and three touchdowns on saturday. He played even better with his arm throwing for 392 yards and two touchdowns.
Junior running back Jahaan Brown had 42 rushing yards.
The Ferris defense was ferocious once again posting two sacks, eight tackles for a loss, and two Churchwell interceptions. After the first Oredigger possession, the secondary stepped up and disrupted everything in their area.
The Bulldogs will take on Grand Valley State on Saturday, Dec. 3, in Grand Rapids, Mich. in a rematch of the GLIAC's finest teams.