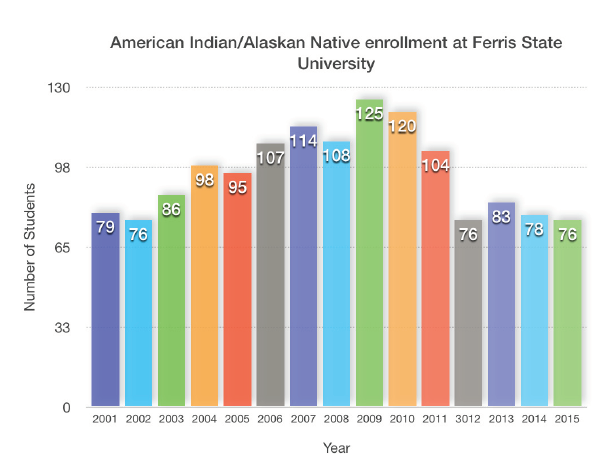 Diversity is one of Ferris' core values and what the university is known for. Yet, not all diversity groups have been receiving the same attention from admissions or support groups on campus.
Ferris biology professor and adviser of the Circle of Tribal Nations Scott Herron has been involved on diversity wide committees and has noticed that the only demographic groups not to be increasing are the Asian American and Native American groups.
"We see a steady decline of Native American students and we want to be proactive to try to change the direction around," Herron said. "Right now, Ferris is struggling to get students of any kind. Thinking outside of the box is key."
According to Herron, there was a former Ferris State Recruiter that would recruit Native Americans at Tribal Colleges and was told by the university to stop recruiting at Tribal Colleges.
There is an American Indian Tuition Waiver that became a law in the 1970s which states that if an American Indian meets criteria of having 25 percent Indian blood, being a part of a federally recognized tribe and a being a resident for one year, tuition would be free at public universities.
"If Ferris is worried about recruiting Natives Americans because they won't make any money off of them that would be terrible because there is always a stereotype that all Native Americans will fit that criteria, which most of them do not, so why not continue to recruit Native Americans?" said Ferris junior in pre-medicine and vice president of the Circle of Tribal Nations Elizabeth Nystrom.
According to Herron, the lack of knowledge of the American Indian Tuition Waiver is trickling down and ultimately causing the drop in admissions for Native Americans.
"We do have individuals on campus who are doing good things, like Jason DaDay, who invited a Saginaw Chippewa group to tour campus last year and continues to find different groups to invite to campus," Herron said.
According to Jason DaDay, assistant director of admissions communications, two separate Michigan-based tribes contacted Ferris for a campus tour.
"I have worked with the tribal representatives to create an engaging campus visit experience that provides the attendees with important information to help them make their college selection decision," DaDay said.
According to Nystrom, the only people that are making an effort to support Native Americans are Scott Herron, Jason DaDay and Andrea Lodholts—the secondary advisor for the Circle of Tribal Nations.
"Three people out of the entire university are making an effort and even then each person can only do so much," Nystrom said. "Scott is a professor and Andrea runs the Green House, so technically it's not even in their job description."
According to Herron, the blame is not on the Office of Multicultural Student Services (OMSS) because this has been a problem for the past 14 years when Ferris was supposed to be becoming a more diverse university.
"When I first started here, OMSS only had two or three employees in their office. They do a great job at programming, for some things that they feel comfortable doing," Herron said. "Michael Wade, assistant director of OMSS, has been the one programmer for the entire university and he works with us really well. I do not put the blame on him. I put the blame on administration. If they care about diversity and growth, why is a department like OMSS not growing with the university?"
The student organization, the Circle of Tribal Nations, is the only support group on campus for Native Americans and has been involved in recruiting and programming.
"Circle of Tribal Nations has been going above and beyond what students should be doing but it's because nobody else will do anything," Herron said.