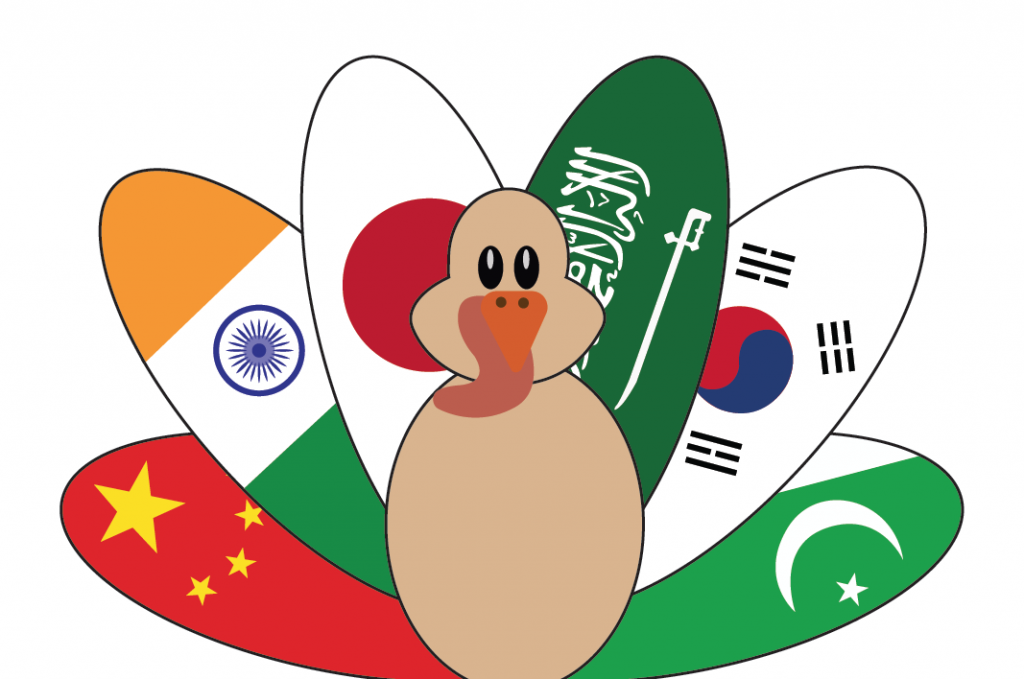 Many students took advantage of the Thanksgiving holiday to go home, visit their families and any of the other various rituals they participate in to celebrate.
A few international students studying at Ferris are taking the opportunity to explore during the holiday and immerse themselves in United States culture.
Thanksgiving provides an opportunity for many to travel because it's an extended break, but usually doesn't allow most international students to return home.
"Before coming to America, I have never heard about Thanksgiving," said Ferris international student from Japan and international liberal arts sophomore Erina Ueno. "Because I think Thanksgiving is for Christians and almost all Japanese are Buddhists. So, we don't have a holiday quite like this."
Ueno said she experienced some traditional foods of Thanksgiving during a dinner hosted by Ferris to give participating international students the experience of a turkey dinner and a turkey induced nap.
Ferris international student from Pakistan and business administration sophomore Umair Razzaq said how he appreciates the amount of time taken for holidays here in the United States. For much of the year, Pakistanis don't get more than one day per week for rest.
"Here we have a lot of holidays like Labor Day, Thanksgiving and Christmas break, so it's really good for us international students," Razzaq said. "When we stay in the USA and when we have a break, we can explore different areas of the U.S. I enjoy much of Michigan such as Detroit, Lansing, Big Rapids and Grand Rapids. This Thanksgiving, I have plans to go to Chicago to check if people sleeping outside of the store on Black Friday is real."
Some international students have more experience with American holidays from previous exchange opportunities, such as Ferris international student from South Korea and professional tennis management freshman Simon Lee, and he drew on some similarities of Thanksgiving and a Korean holiday known as Chuseok.
"We have a week holiday in every September and the whole family is gathered to one house," Lee said. "We make traditional food and we celebrate for our ancestors so it's kind of similar."
Ferris international student from Saudi Arabia and human resources freshman Sara Almaydan said they also celebrate a holiday like Thanksgiving.
"My favorite holiday is like Thanksgiving in my county but we call it Eid al-Fitr," Almaydan said. "When we finish fasting from Ramadan, we celebrate by gathering the whole family together and say thanks to each other because we did the fast for the whole month. Then we eat traditional food."
Almaydan said she will also go to visit a friend in Detroit, eat an American Thanksgiving meal and go Black Friday shopping.
"In China, many youths are really interested in Christmas more than Thanksgiving. And even lots of people don't know Thanksgiving," said Ferris international student from China and accounting freshman Pei Xia. "So, this is my first experience for Thanksgiving and I spend this holiday with my family. I ate some roasted turkey and some different kinds of Chinese cuisines cooked by my aunts. I also went shopping in Macy's and JCPenney because of the big sale. It's so interesting and incredible."
Black Friday shopping is also a big deal for Ferris international student from India and associate degree level HVACR student Anirudh Baliga. He planned on visiting Grand Rapids during the holiday and finding some sales at the factory outlet mall.
"Thanksgiving is kind of similar to the Diwali festival we had earlier this semester where there is food and family time," Baliga said. "The difference is that there is a lot more energy during Diwali. This time around, I'm thinking of going to my roommate's house where they're celebrating Thanksgiving so I'll get more experience about how things are done during Thanksgiving break."