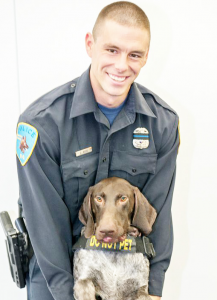 Wayne State University Police Officer and 2010 graduate of Ferris' criminal justice program Collin Rose died of a gunshot sustained in the line of duty.
According to an article by the Detroit Free Press, Rose, a K-9 unit officer, was patrolling several blocks from campus in the Detroit neighborhood of Woodbridge with his two dogs in the vehicle Tuesday, Nov. 22.
It was reported that Rose was most likely in the process of apprehending a suspect in a 911 call when gunshots were fired, one of which hit the officer in the head.
The suspect, 31 year-old Deangelo Davis, was arrested the evening of Nov. 22 and has a criminal record of violence against police officers. Davis was formally charged with first degree murder Friday, Nov. 25, following Rose's death in the hospital Wednesday, Nov. 23, according to the Detroit Free Press.
Neighbors claim that Davis is homeless, receiving meals from I Am My Brother's Keeper Ministry and living in a nearby park. Davis is currently being held without bond in the Wayne County jail.
After Rose earned his Bachelor's of Science degree from Ferris in 2010, the Richland native worked at his hometown police department before joining the Wayne State University Department.
Rose was nearing completion of his Master's of Science degree in police administration at Wayne State University and was engaged to be married in 2017.
"This is a very sad day for everyone in the Ferris State community," said Ferris State University President David Eisler in a statement released on Nov. 23. "Officer Rose was an excellent student, a leader among his peers and a consummate professional dedicating to protecting and serving. Our thoughts and prayers are with his family during this very difficult time."
Honoring Rose's love of animals and dedication to the force, his family and fiancée ask that in lieu of flowers, donations be made to the following charities: Police Unity Tour, Vested Interest in K9s, Project Paws Alive, Inc. and the Brotherhood for the Fallen and Detroit Dog Rescue.