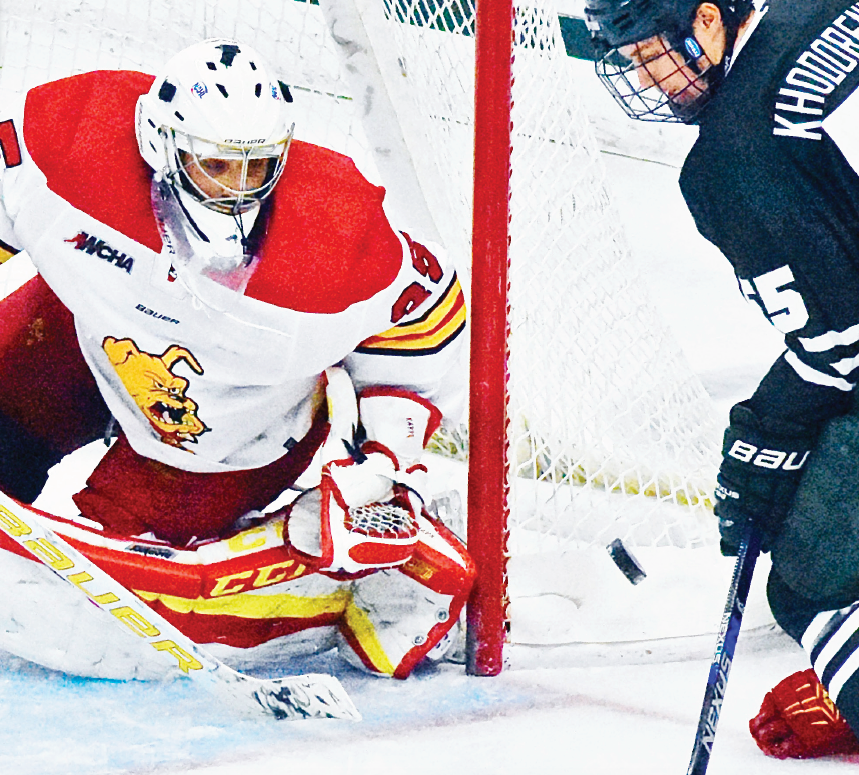 Ferris State has a recent history of great goaltenders, and freshman Justin Kapelmaster is making his case having recently taken over the position for the Bulldogs.
Kapelmaster, also known as Kappy, joined the Bulldogs for the 2016-17 season behind sophomore goaltender Darren Smith on the depth chart. Smith had a breakout freshman year during the 2015-16 season but was substituted out for Kapelmaster midway through the current season.
Kapelmaster, a Coral Springs, Florida native, has played in six total games, playing in the only five Bulldog victories so far this season.
"Not playing the first few games was a little tough, but I knew I had to be ready to go when my name was called and work hard up to that point," Kapelmaster said.
Prior to Kapelmaster's time in Big Rapids, he played in the Ontario Junior Hockey League (OJHL) where he was named Goaltender of the Year for the 2014-15 season, leading his team to a regular season title.
After his stint in the OJHL, Kappy headed to the North American Hockey League (NAHL) to play for the Wichita Falls Wildcats where he helped lead the program to a Robertson Cup Final appearance with four total shutouts on the season.
"Every time you move up a league, just like in junior hockey, it takes some getting used to and the transition to Division I just takes time," Kapelmaster said. "I'm feeling very confident in what I can do in the net and my team playing strong in front of me makes me feel just as confident in them."
The Dawgs first made the switch to start Kapelmaster in the second game of the series against rival Minnesota State which happened to be the first win of the 2016-17 season for the Dawgs.
It's tough for any goaltender to succeed without a strong defensive unit in front of him, and senior defenseman Ryan Lowney is a veteran who has played in front of a number of different goaltenders during his Bulldog tenure.
"Darren and Justin have both been good this year, although Darren's record does not give him any justice, he has played well," Lowney said. "Justin has played outstanding for us and helped us pull together some wins."
Not only does Kapelmaster already have two assists on the year from the goaltender position, he is also undefeated as a starter.
"It is always nice to have someone in goal that we are confident with," Lowney said. "When we know that they are playing their hearts out between the pipes, it motivates us to play that much harder to help him out. But it is nice having that dual threat in net between Darren and Justin night in and night out."
As for Kapelmaster's thoughts on taking over in goal, he said that what Smith did last year helping his team win the WCHA was phenomenal.
"I think the main thing is that whoever is in net, the other guy wants whoever is playing to have great success, and that is huge between goalie partners—in my opinion—to have confidence in each other," Kapelmaster said.
Kappy will be looking to keep his undefeated streak as a starter alive as the Bulldogs are back in action on the road at Alabama-Huntsville 8:07 p.m. Saturday, Dec. 3.