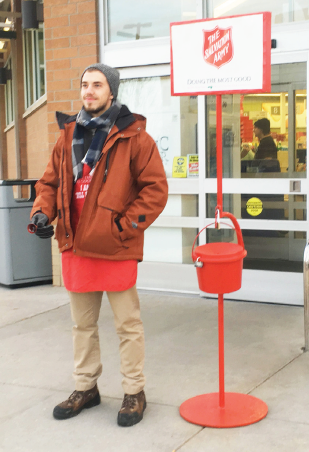 This time of the year, it's quite common to hear the familiar Salvation Army bell before you enter the store for some holiday shopping.
"So far this season, the Salvation Army has seen over 150 Ferris State University students register to be volunteer bellringers for it's Red Kettle Campaign," said Salvation Army Development Director Chris Vallette. "This is more than ever at this stage of the campaign. The best part about it is they are bringing their friends and having fun while ringing."
Last year, more than 300 Ferris students volunteered for the Salvation Army for bellringing, which was a record high according to Vallette.
"I volunteered because it's good to give back to the community," said Ferris undeclared freshman Kaci Garver. "I am having fun."
The Salvation Army has nine bellringing locations in the Mecosta, Osceola, Lake and Newaygo counties including four locations in Big Rapids at JCPenney, Big Lots, Walgreen's and Walmart.
"Bellringing is as fun as the volunteer makes it!" Vallette said. "We require all bellringers to wear the red 'I'm a Bellringer' apron, ring the bell and be friendly to all who pass by. We encourage our volunteers to sing carols, play an instrument, greet people, smile and of course, thank those who stop and donate to the kettle."
Bellringing shifts are two hours long, although volunteers can sign up for as many shifts they are able to do.
"Well, I've always kind of had a passion for volunteering. I did it in high school a lot at the local hospital. It comes around like this time of season. I like to give back," said Ferris optometry graduate student, Ethan Zimmerman. "Salvation Army actually gives back to a lot of different organizations in the community and they take care of a lot of people whether it be the homeless in inner cities, children's after school programs, even their clothing stores give a percentage of all their profits back to the community in some shape or form."
According to Vallette, the donations collected from the Red Kettle campaign will go to services such as emergency and disaster services, summer youth and teen camps, an after school community center and rent, heat and electricity assistance.
"I think it's important because they do so much to help the communities and it's just a way to put in time for a good cause," said Chippewa Hills high school senior Rachel Lobet.
Last year, the Salvation Army succeeded their goal of $90,000 by raising $104,000. This year they have a goal of $100,000 according to Vallette.
"The Red Kettle Campaign is celebrating it's 20th year in the Big Rapids area," Vallette said. "We have been blessed by the community over those 20 years and have been able to use the funds they provided to expand our programs and services. This has helped us meet the need of more people each year."
The Salvation Army is still looking for volunteers and those who are interested can go to sabigrapids.org for more information.