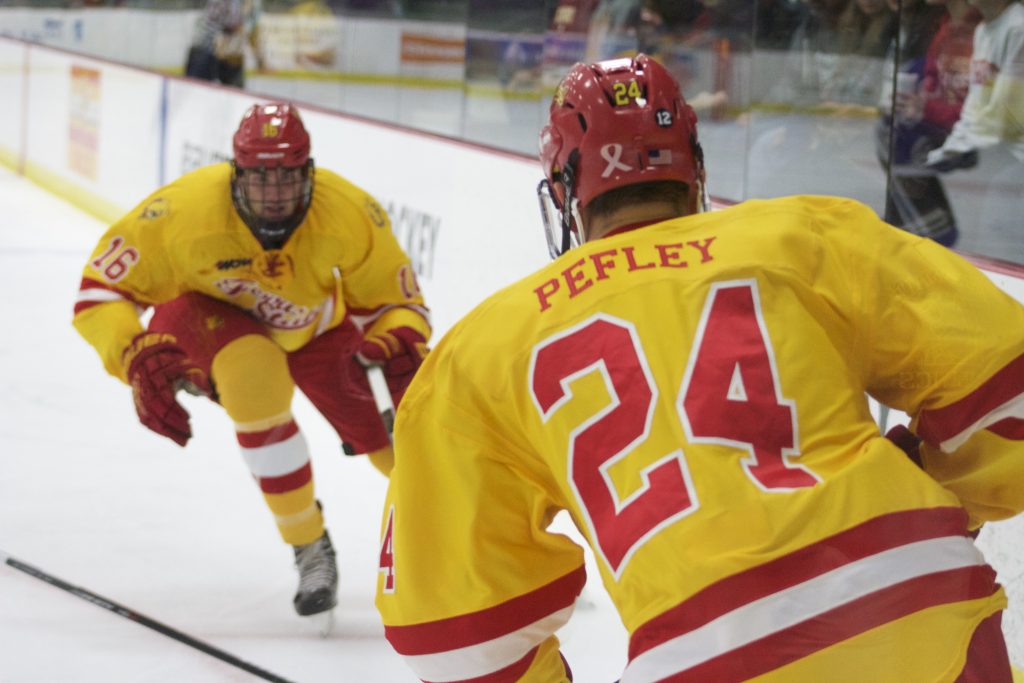 The Ferris men's hockey team learned that the offense can't do it all, as they took a 5-3 loss at the hands of Alabama-Huntsville Saturday night.
It appeared the Bulldogs were prepared to take control of the game after junior forward Andrew Mayer found the back of the net on a short-handed goal three minutes into the first period. That just wasn't the case for Ferris, as their defense failed to keep pace with the Chargers.
The biggest problem for the Bulldogs' defensemen was a sophomore defenseman on the other side of the ice named Kurt Gosselin. Gosselin frustrated Ferris as he scored back-to-back goals in the first period and yet another in the third period, ending the night with a hat trick.
Despite the lackluster performance of the defense, the Bulldogs flourished on the offensive side in the first 40 minutes. The offense outshot Alabama-Huntsville 23-19 through the first two periods and managed to find the net twice more on goals by sophomore forward Trevor Recktenwald and freshman forward Jason Tackett.
Tackett spurred hope for the Bulldogs with his first collegiate goal to give the team a 3-2 lead before the second period ended. His efforts, however, were negated by a Chargers offense that came to life in the third period, scoring two unanswered goals to put Alabama-Huntsville on top 4-3.
The Bulldogs tried to find the net and tie the game up at four in the final minutes of the third period and removed freshman goalkeeper Justin Kapelmaster to do so. The tactical 6-5-man advantage blew up in face of the Bulldogs as AHU sophomore defenseman Cam Knight sent the puck nearly the length of the ice into the empty net to seal the game and hand the Bulldogs their tenth loss of the year.
The loss moves Ferris to 5-10-1 on the season. The Bulldogs will look to split the road series with Alabama Huntsville Sunday, December 4 at 4:07 p.m.